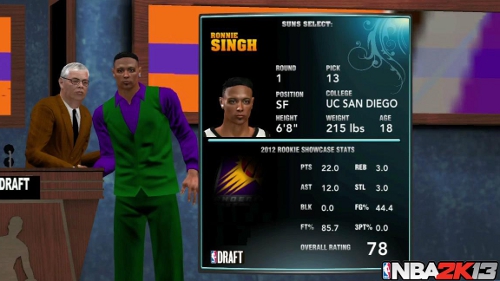 2K Sports won't be discussing full details on MyCareer mode in NBA 2K13 until Friday but released a screenshot from the draft portion today. Along with the image – which features a unique suit suggesting there will be options to choose from and a higher base rating upon entrance into the league for those performing well in the "Rookie Showcase" – it has been noted that players can even be selected #1 in the NBA Draft which had not been possible in the past.
What had been known as MyPlayer mode was discovered to have gotten a name change to MyCareer when the achievements for 2K13 were uncovered. It sounds as though MyPlayer now will refer to the specific player that will be controlled inside the MyCareer universe and possibly to be used within other modes as well.
(Update) 2K has released an additional shot of a sit down meeting with the team's GM where suggestions or trade demands can made.