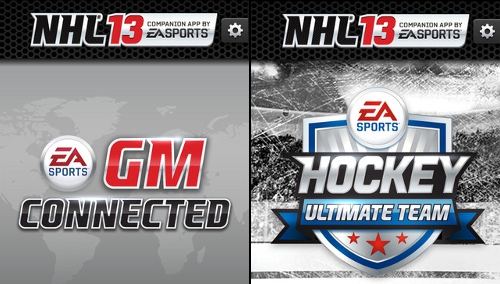 The NHL 13 Companion App went live yesterday for iPhone, iPod touch, and iPad. The free mobile app provides access to the expansive GM Connected and Hockey Ultimate Team modes housed on the console version of the game. Continue on for a look at all the functionality delivered through the app!
GM Connected
•Make trade offers and sign free agents.
•View your player and team schedule, statistics, scoring leaders, injuries and more.
•League Messaging: negotiate deals, smack talk opponents, and discuss strategies.
•Stay up to the minute on the latest league news. You can view scores, standings, schedules, trades, roster moves, injuries and stats for each team in your league.
Hockey Ultimate Team
•Keep up to date with what is going on in the world of Hockey Ultimate Team
•Use the auction house search engine to find and bid on players to build your Ultimate Team.
•View what cards are being put up for auction and see the going price thru the Hockey Ultimate Team auction house feed.