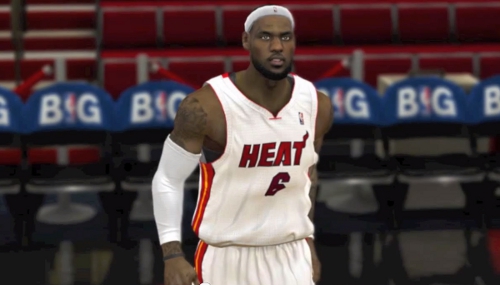 2K Sports has released details on features for the Wii U version of NBA 2K13 and a new video showing the game in action for the first time has emerged.
2K13 will be a launch title for the new console, out on November 18, and include many of the same features found in the 360 and PS3 version such as the Dream Team, new MyCareer enhancements, and MyTeam which will be somewhat familiar to those who have played to the Ultimate Team modes found in several EA Sports titles. It will not, however, have the All-Star Weekend content that is being offered as a pre-order bonus for the 360/PS3.
Check out the first screenshots here and continue on for the initial features list (more remains unannounced) along with the first footage of the game in action! 
Wii U Launch Title
As a launch title to Nintendo's new Wii U console, NBA 2K13 will be the first choice for basketball fans on the new console.
Gatorade Biometric Scan
Think you have a feel for how your player is performing? Think again. The Gatorade Biometrics display provides an up-to-the-second look at your player's mood and fatigue level in the game. A persistent "heartbeat" and dynamic hot/cold zones will keep you in tune with your player's psyche as the game progresses.
A JAY Z Production
NBA 2K13 is produced by multi-platinum recording artist and hip-hop mogul JAY Z.
USA Basketball
Finally answer the question: Who would win a head-to-head duel between the 1992 Dream Team and the 2012 squad?
MyCAREER Mode
Build your MyPLAYER by giving him signature skills, and acquire your very own custom animations using Virtual Currency (VC). Includes all-new GM sit-down feature, new endorsement paths, improved in-game AI, and all-new swag including casual clothing, equipment, custom shoes and much more
NBA 2K "MyTEAM"
Collect players, uniforms, arenas and boosts to put together your own team. Track the talent marketplace that fluctuates based on real-life performance, and then take your team online to play against other players' MyTEAMS in a new tiered matchmaking system.
Shoe Creator
One of the most flexible interfaces ever allow the user to customize up to 45 shoe components and layers from the ground up. Create original shoes from all the major shoe brands and deck your player out with his own signature creation.
Classic Teams
The best teams in NBA history are back, and can now be taken online. Challenge your friends with squads such as the '96 Bulls and '65 Celtics.
Improved Gameplay features, including such innovations as:
•The Control Stick: For the first time ever, all dribble moves have been mapped to the right analog stick, as well as shooting, passing, and post moves. String together devastating crossovers and clutch shots for maximum control and effectiveness.
•Dynamic Shot Generator: Shots are now dynamically created on the fly, with all-new collision physics created in real-time.
•Signature Skills: Each player has unique abilities that can alter the course of a game. Players are modeled to impact the game in their own unique way, from Derrick Rose as a "Floor General" to Kevin Durant being "The Closer." Learn to use each player's unique ability and change the game on your terms.
•Revamped Passing System: Improved fast break passing gives players more control. Fire a bounce pass to a cutting teammate or go "Lob City" in transition.