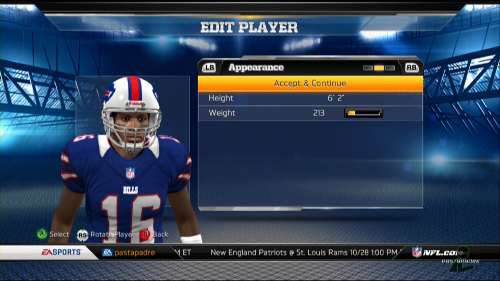 As previously reported the ability to edit the body makeup of current players within Madden NFL 13's Connected Careers mode has been removed. This has taken effect through a server-side update to "online" careers. Presumably the feature will be removed from "offline" careers as well but doing so there requires being part of a patch.
Thankfully it is only the 'Appearance' section of editing that has been altered removing everything except being able to view height and weight. The full range of access to changing information and equipment remains. All created players that appear within the league will retain complete editing including full appearance along with the information and equipment.
An issue was immediately discovered following the latest patch in which players, primarily isolated to the offensive and defensive lines, were transformed into scrawny body types after making any change to them through the editing process. Apparently removing body section with current players has eliminated the bug that was causing that to happen.