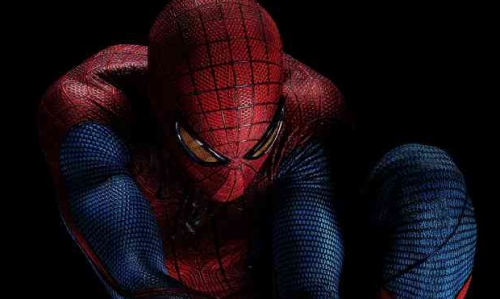 The Amazing Spider-Man
The Amazing Spider-Man is the story of Peter Parker, an outcast high schooler who was abandoned by his parents as a boy, leaving him to be raised by his Uncle Ben and Aunt May. Like most teenagers, Peter is trying to figure out who he is and how he got to be the person he is today. Peter is also finding his way with his first high school crush, Gwen Stacy, and together, they struggle with love, commitment, and secrets. As Peter discovers a mysterious briefcase that belonged to his father, he begins a quest to understand his parents' disappearance – leading him directly to Oscorp and the lab of Dr. Curt Connors, his father's former partner. As Spider-Man is set on a collision course with Connors' alter-ego, The Lizard, Peter will make life-altering choices to use his powers and shape his destiny to become a hero.

Arthur Christmas
Arthur Christmas reveals the incredible, never-before seen answer to every child's question: 'So how does Santa deliver all those presents in one night?' The answer: Santa's exhilarating, ultra-high-tech operation hidden beneath the North Pole. But at the center of the film is a story about a family in a state of comic dysfunction and an unlikely hero, Arthur, with an urgent mission that must be completed before Christmas morning dawns.

Fire With Fire
After witnessing the brutal murders of a convenient store owner and his son; firefighter Jeremy Coleman nearly escapes with his life. As he is forced to testify against the crime lord Hagan he is placed in the witness protection program under the watch of the U.S. Marshalls. As his new identity becomes compromised Jeremy is forced to take an unexpected course of action in order to get is life back and save the lives of those he loves.

360
A sexy, dramatic thriller about interconnected romantic life in the 21st century. 360 starts in Vienna, weaving stories set in Paris, London, Bratislava, Rio, Denver and Phoenix into a single, mesmerizing narrative. A businessman tempted to be unfaithful to his wife, sets into motion a series of events which ripple around the globe with dramatic consequences. From the director of City of God and The Constant GardenerGardener, and featuring a terrific ensemble cast, led by Anthony Hopkins, Jude Law, Rachel Weisz and Ben Foster.

Maximum Conviction
When former black ops operative Tom Steele (Steven Seagal) and his partner Manning (Steve Austin) are assigned to decommission an old prison, they must oversee the arrival of two mysterious female prisoners. Before long, an elite force of mercenaries assault the prison in search of the new arrivals. As the true identities of the women are revealed, Steele realizes he's caught in the middle of something far bigger than he had imagined.

The Muppet Christmas Carol 20th Anniversary Edition
Greetings, holiday movie fans and culture lovers, I am the Great Gonzo.or as I am better known to fans of this classic motion picture-literary legend Charles Dickens. Ready to laugh, cry, sing, frolic, cavort, and enjoy yourself beyond belief!? Well, you're in luck, because this Great Gonzo's "From Chickens to Dickens" 20th anniversary edition of The Muppet Christmas Carol is guaranteed to put you in a holiday spirit that will stay with you forever – or at least until your Aunt Edna starts complaining that nobody is eating the fruitcake she brought.again! Available for the first time ever on Blu-ray with high-definition sound and picture, so you can enjoy even more of my blue-ness, not to mention the incredible spectacle of Kermit the Frog as Bob Crachit, Miss Piggy as Emily Crachit, Academy Award-winner Michael Caine as Scrooge, wonderful songs by Academy Award-winner Paul Williams, and, of course, my pal Rizzo the Rat as.well, Rizzo the Rat. A heartwarming and hilarious holiday classic, told as never before by yours truly! Yule love it! Happy Holidays!

Entourage: The Complete Series
The Emmy-winning hit comedy series created by Doug Ellin, and based (at least in part) on the experiences of his good friend, Oscar nominated actor Mark Wahlberg (who's among the series' executive producers). The series takes a none-too-serious look at the day-to-day life of Vincent Chase(Adrian Grenier), an incandescent young Hollywood actor, and the three buddies he's brought from their hometown in Queens, NY: manager Eric (Kevin Connolly), half brother/actor Drama (Kevin Dillon), and pal Turtle (Jerry Ferrara). Also starring Golden Globe and three-time Emmy -winner Jeremy Piven as Ari Gold – now heading an entertainment –agency behemoth–Entourage draws on the experiences of industry insiders to illustrate the excesses of today's celebrity lifestyle, as well as the difficulty of maintaining relationships and artistic fulfillment in the show biz fast track.