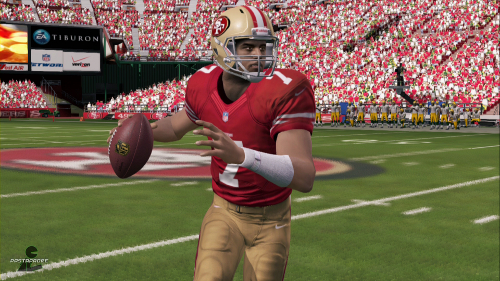 Week 11 of the NFL season brought about a number of changes at the QB position due to injury. Colin Kaepernick stepped in for Alex Smith and lit up the vaunted Bears defense bringing into question who will start for the 49ers going forward. With Ben Roethlisberger already out Byron Leftwich got hurt so Charlie Batch will take over for the Steelers. With the Jaguars Chad Henne replaced Blaine Gabbert and threw four touchdowns against a usually strong Texans defense.
It's currently unclear whether there will be another Madden NFL 13 roster update this week. In the past on Thanksgiving week the update has either released early on Wednesday or was just skipped over. Players who stood out in week 11 and may be in line for a ratings upgrade include Kaepernick, Aldon Smith, Justin Blackmon, Nick Fairley, Vincent Jackson, Von Miller, A.J. Green, Denario Alexander, and Andre Johnson. On the other end of the spectrum players such as Reggie Bush, Ryan Tannehill, Mason Crosby, Dwayne Bowe, Gabe Carimi, and Jason Campbell had poor performances and are likely to drop.
Plaxico Burress is signing with the Steelers and Deion Branch was cut by the Patriots. Willis McGahee and Rob Gronkowski will be out for extended periods due to injuries they suffered. As always leave your thoughts in the comments on what players should get ratings consideration, whether up or down, in the next Madden NFL 13 roster update!