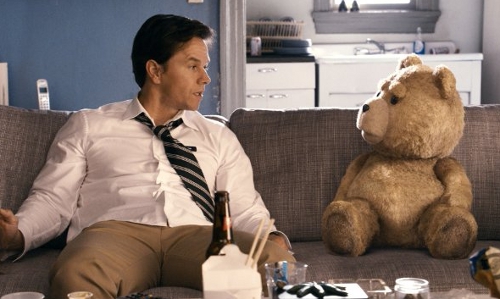 Ted
Family Guy creator Seth MacFarlane brings his boundary-pushing brand of humor to the big screen for the first time as writer, director and voice star of Ted. In the live action/CG-animated comedy, he tells the story of John Bennett (Mark Wahlberg), a grown man who must deal with the cherished teddy bear who came to life as the result of a childhood wish…and has refused to leave his side ever since.

The Bourne Legacy
The Bourne Legacy takes the action-packed Bourne series to an explosive new level. On the verge of having their conspiracy exposed, members of the government's intelligence community will stop at nothing to erase all evidence of their top secret programs – even the agents involved. Aaron Cross (Jeremy Renner) must use his genetically-engineered skills to survive the ultimate game of cat-and-mouse and finish what Jason Bourne started. Also starring Academy Award winner Rachel Weisz and Academy Award nominee Edward Norton.

Ice Age: Continental Drift
History's greatest heroes return for the most outrageously funny and entertaining Ice Age adventure in two million years. When Scrat's acorn antics cause a cataclysmic crack-up, Manny (Ray Romano), Sid (John Leguizamo) and Diego (Denis Leary) go where no herd has gone before – on a high-seas quest aboard a floating iceberg. But a menagerie of misfit pirates are determined to shiver their timbers and capsize their journey home. Join a boat-load of lovable new characters (voiced by Jennifer Lopez, Aziz Ansari and Peter Dinklage) for original songs, spectacular animation and heartwarming family fun.

Girls: Season 1
From writer/director/actor Lena Dunham and comedy veterans Judd Apatow and Jenni Konner, this scripted half-hour series focuses on a group of 20-something women in New York and their adventures in post-collegiate floundering. Two years out of liberal arts school, Hannah (Dunham) believes she has the talent to be a successful writer, and though she has yet to complete her memoir (she has to live it first), her parents cut her off financially without warning. Further complicating things for Hannah is her unrequited passion for eccentric actor Adam, with whom she occasionally has sex (when he can be bothered to respond to her text messages). As the harsh reality of rent and bills looms, Hannah leans on her very-put-together best friend and roommate Marnie, who has a real job at an art gallery and an even realer boyfriend (neither of which she can admit she might not love). Meanwhile, their gorgeous British friend Jessa, who has travelled to as many different countries as she's had boyfriends, appears in the city and moves in with Shoshanna, her naïve younger cousin with Sex and the City lifestyle aspirations. Over the course of Season 1's ten episodes, the four girls try to figure out what they want – from life, from boys, from themselves and each other. The answers aren't always clear or easy, but the search is profoundly relatable and infinitely amusing.

Mankind: The Story of All of Us
From the producers of America: The Story of Us comes the epic tale of the rise of civilization. Mankind: The Story of All of Us, a 12-hour series, spans the first flourishing of life in Mesopotamia through the discovery of America, capturing the danger, action, struggle, heroism, and adrenaline using groundbreaking techniques.

Lego Ninjago: Masters of Spinjitzu – Rise of Green
ONE NINJA MUST TRAIN TO SAVE THEIR WORLD The great Devourer has been defeated, but Lord Garmadon is still at large and what's worse – he now holds the four Golden Weapons of Spinjitzu, and soon he commands both the Serpentine and the Ninjas' flying ship 'The Bounty'. The four Ninja must train Lloyd for his confrontation with his father, but with limited powers and without a home, it proves more difficult than they could have imagined. And Lloyd is not exactly an A-student either. Garmadon is bent on preventing Lloyd meeting his full potential. He unleashes a series of devious plots including the ultimate Mega weapon, enemy pirates, dark replicas of the four ninjas and a dangerous race across Ninjago. The destiny of the Green Ninja has yet to be fulfilled.

WWE: Raw 100 – The Top 100 Moments in Raw History
Since its debut on January 11 1993 Monday Night Raw has delivered an endless supply of thrills suspense action controversy and excitement for the WWE Universe to enjoy each and every week. On the heels of celebrating the monumental 1000th episode of the longest running weekly episodic program on television WWE counts down the top 100 moments in Raw history. From the early years through the Attitude Era and today relive all the top moments that have kept the WWE Universe glued to their sets for nearly 20 years. From the destructive DX to Stone Cold's hell-raising antics epic title celebrations shocking twists and poignant memories of all your favorite Superstars it's all collected here. Plus own the complete 3-hour Raw 1000th episode that celebrated history and launched a new era in WWE- featuring exclusive never-before-seen backstage footage of current Superstars and returning Legends who appeared in the show.