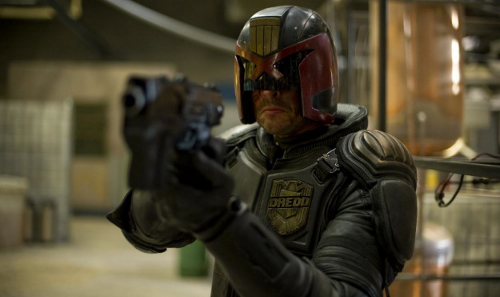 Dredd
The future America is an irradiated wasteland. On its East Coast lies Mega City One – a vast violent metropolis where criminals rule the chaotic streets. The only force of order lies with the urban cops called "Judges" who possess the combined powers of judge jury and instant executioner. The ultimate Judge Dredd (Karl Urban) is tasked with ridding the city of its latest scourge -a dangerous drug and the sadistic prostitute turned drug pusher who is using it to take over the city.

Frankenweenie
From Disney and creative genius Tim Burton (Alice in Wonderland, The Nightmare Before Christmas) comes the hilarious and offbeat Frankenweenie, a heartwarming tale about a boy and his dog. After unexpectedly losing his beloved dog Sparky, young Victor harnesses the power of science to bring his best friend back to life – with just a few minor adjustments. He tries to hide his home-sewn creation, but when Sparky gets out, Victor's fellow students, teachers and the entire town learn that getting a new 'leash on life' can be monstrous. Complete with electrifying bonus features, Frankenweenie is alive with enchanting fun for the whole family.

Hit & Run
Dax Shepard and Kristen Bell star in this hilarious, non-stop action-packed comedy costarring Bradley Cooper, Kristin Chenoweth and Tom Arnold. A nice guy with a questionable past, Charlie Bronson (Shepard), risks everything when he busts out of a witness protection program to drive his girlfriend (Bell) to Los Angeles for the job opportunity of a lifetime. Their road trip grows awkwardly complicated, however, when they're chased by an inept fed (Arnold) and Charlie's ex-pal (Cooper), a vengeance-crazed criminal he helped put behind bars. Hit & Run is a high-speed race to the finish where the brakes are off and the chase is on.

Stolen
STOLEN follows Will Montgomery (Nicolas Cage), a master thief who has been sent to prison for eight years after being double-crossed in a heist gone awry. Upon his release, he's ready to leave his criminal past behind and rebuild his relationship with estranged daughter, Alison Loeb (Sami Gayle). Montgomery's former criminal cohorts and FBI agent Tim Harlend (Danny Huston), are all convinced that the $10 Million dollars was hidden away by Montgomery before he was sentenced. In order to get his hands on it, former partner in crime, Vincent (Josh Lucas), kidnaps Alison and demands the missing loot as ransom; giving Montgomery one day to deliver. Montgomery is left with only one choice: To trust his instincts and join forces again with another old partner in crime, the beautiful, sexy and smart Riley Jeffers (Malin Akerman). Together they must pull off one more heist so he can get his daughter back… before it's too late. Director Simon West and Nicolas Cage team-up for the first time since the 1997 blockbuster CON AIR for STOLEN, a unique fast paced action thriller that takes place during 10 frantic hours on Mardi Gras day in New Orleans.

House at the End of the Street
Terror hits home in the chilling Unrated Cut of House at the End of the Street – with a shocking added twist you didn't see in theaters! Academy Awardr Nominees Jennifer Lawrence (The Hunger Games) and Elisabeth Shue star in this edge-of-your-seat horror hit packed with heart-pounding thrills and gripping suspense. Newly divorced Sarah (Shue) and her teenage daughter Elissa (Lawrence) have just moved to the suburbs for a fresh start. But their hopes quickly shatter as they learn that, years earlier, a grisly murder took place next door when a deranged girl killed her parents and disappeared. The girl's older brother Ryan (Max Thieriot) still occupies the house, and when he befriends Elissa, his secretive past could become her worst nightmare!

Game Change
Game Change is a searing, behind-the-scenes look at John McCain's 2008 presidential campaign, from the decision to select Alaska Governor Sarah Palin as McCain's running mate to the ticket's ultimate defeat in the general election just sixty days later. Told primarily through the eyes of senior McCain strategist Steve Schmidt, who originally championed Palin and later came to regret the choice, Game Change pulls back the curtain on the intense human drama surrounding the McCain team, the critical decisions made behind closed doors and how the choice was made to bring Palin on the ticket. The film examines how we choose our leaders by offering a unique glimpse into the inner workings of an historic campaign.

Archer: Season 3
Join suave master spy Sterling Archer and his team at ISIS for another hilarious season of over-sexed, hard-drinking espionage and insanity! With a crisis brewing aboard the international space station, Earth may be doomed, but the world's most dangerous secret agent has bigger worries. Archer's dead fianc'e returns to life as a cyborg. His nemesis, Bionic Barry, takes over the KGB, and Archer's mother has steamy affairs with both the Italian prime minister and Archer's man-crush. Packed with outrageous operations and irreverent intrigue, Season Three comes armed to the teeth with exclusive, highly classified animated extras.

Smash: Season 1
Emmy Awardr winner Debra Messing (Will & Grace), Academy Awardr winner Anjelica Huston (Prizzi's Honor), Megan Hilty (Broadway's Wicked) and American Idol's Katharine McPhee star in the groundbreaking, critically acclaimed series Smash. Talented newcomer Karen Cartwright (McPhee) is up for the role of a lifetime in a new Broadway musical based on the iconic Marilyn Monroe. The only thing standing in her way is Ivy Lynn (Hilty), a seasoned theater veteran who is determined to land the part herself and will stop at nothing to realize her own dreams of fame.

An Idiot Abroad: Season 2
In the second season of this hilarious series Ricky Gervais and Stephen Merchant co-creators of The Office and Extras help their friend Karl Pilkington (The Ricky Gervais Show) complete tasks from his bucket list…except the experience is never as easy or as fun as it seems. Gervais and Merchant find ways to arrange a few surprises along the way to keep things interesting. In the end Pilkington ends up visiting more places and suffering more detours than he did in the first season! Find out what happens when an idiot goes abroad…again!

Dallas: Season 1
The landmark TV drama continues with a whole new generation, as JR's (Larry Hagman) and Sue Ellen's (Linda Gray) son, John Ross (Josh Henderson), locks horns with Bobby's (Patrick Duffy) adopted son Christopher (Jesse Metcalfe), proving that in Texas — oil is still thicker than blood. Both families want control of the coveted Southfork family estate. With JR's cunning guidance, John Ross is determined to drill it, while Christopher backed by Bobby, searches for alternative fuels, and plans to donate Southfork to a conservatory. It's a battle without limits, whether it means stealing another man's money, loyalty, girlfriend or wife. leaving just one question. Whose side are you on?