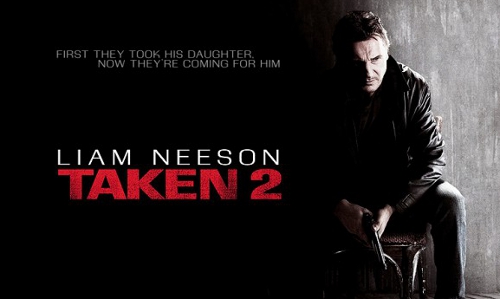 Taken 2
Liam Neeson returns as Bryan Mills, the ex-CIA operative who stopped at nothing to rescue his daughter from sadistic kidnappers. When the father of one of the kidnappers swears revenge, it is Bryan and his wife who find themselves "taken" hostage in Istanbul. To survive, Bryan must enlist the help of an unlikely ally and use his brutally efficient skills to take out his heavily-armed foes one by one.

To Rome With Love
Romance! Adventure! Hilarity! Italy! Woody Allen leads this all-star cast on a rollicking ride through the streets of one of the world's greatest cities. Lovers and Fianc'es Opera Singers and Architects the talented and the famous and the youthful and the wise are all players within this ensemble tour-de-force as their stories and lives magically criss-cross and collide throughout this engaging film. Also starring Alec Baldwin Roberto Benigni Pen'lope Cruz Judy Davis Jesse Eisenberg Greta Gerwig and Ellen Page in a movie as incredible as Rome itself.

Won't Back Down
OSCAR Nominees Maggie Gyllenhaal and Viola Davis lead a stellar cast in this rousing drama inspired by actual events. Frustrated by her dyslexic daughter's struggles at a failing inner-city school, Jamie Fitzpatrick (Gyllenhaal) tries to enroll her somewhere else. When this fails, Jamie recruits a disillusioned but caring teacher (Davis) to try to fix the broken school. Soon, the women find themselves in a tense battle against apathy, hopelessness, and powerful interests. OSCAR Winner Holly Hunter and OSCAR Nominee Rosie Perez also star in this inspiring story that shows how profoundly parents can affect their kids' education.

The Possession
Clyde (Jeffrey Dean Morgan) and Stephanie Brenek (Kyra Sedgwick) see little cause for alarm when their youngest daughter Em becomes oddly obsessed with an antique wooden box she purchased at a yard sale. But as Em's behavior becomes increasingly erratic, the couple fears the presence of a malevolent force in their midst, only to discover that the box was built to contain a Dibbuk, a dislocated spirit that inhabits and ultimately devours its human host.

One Direction – The Invasion
One Direction is one of the most promising bands in modern music. Niall Horan, Liam Payne, Harry Styles, Zayn Malik, and Louis Tomlinson are a force to be reckoned with. Their international vibrant sound has landed them at the top of the charts. Hits like "What Makes You Beautiful," "Gotta Be You," and "One Thing" become instant fan favorites. In this exclusive documentary we explore the evolution of one of the hottest boy bands in music – One Direction.

The Other Dream Team
Everyone knows Magic Johnson, Michael Jordan, and the other members of the 1992 American Olympic Dream Team. This is the story of the Other Dream Team. They didn't bring their country the gold medal they brought something much more valuable. After leading the USSR to a gold medal (and victory over the U.S.A.) at the 1988 Olympics in Seoul Sarunas Marciulionis and Arvydas Sabonis were poster boys for the Soviet sports machine. Four years later after the fall of the Soviet Union they emerged as symbols of democracy helping their country break free from the shackles of Communism and willing newly independent Lithuania to the medal stand at the Barcelona Olympics

Merlin: Season 4
Merlin is back for a fourth season with even more magic adventure and romance! The young wizard struggles to protect Prince Arthur in the perilous world of Camelot. While battling deadly assassins mystical monsters and the most powerful sorcerers Camelot has ever seen Merlin now has to face his toughest challenge yet when Morgana's blind determination puts at risk Arthur's future as well as the very balance of the world. Featuring exciting new villains white-knuckle stunt sequences and spectacular CGI monsters Merlin season four is more thrilling than ever.

Men of a Certain Age: Season 2
MEN OF A CERTAIN AGE returns for a second season with all three men facing a number of roadblocks on their continuing journeys through midlife. They know they can always rely on their friends to see them through. Joe (Romano) is a divorced slightly neurotic father of two who runs a party store and recently overcame a gambling problem. He's now decided to rekindle his dream of becoming a professional golfer training for a spot on the senior tour. Owen (Braugher) the married one of the group is finally asserting himself at his family's car dealership but is struggling with being the boss. Terry (Bakula) the relaxed handsome actor continues to search for stability after disastrous attempts at managing an apartment complex and reviving his acting career.