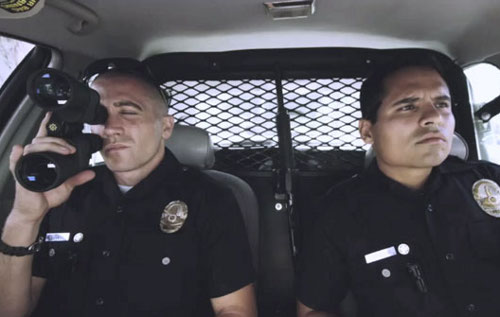 End of Watch
From the writer of Training Day comes a gripping, action-packed cop drama starring Academy Awardr nominee Jake Gyllenhaal and Michael Pe¤a. In their mission to abide by their oath to serve and protect, Officers Brian Taylor (Gyllenhaal) and Mike Zavala (Pe¤a) have formed a powerful brotherhood to ensure they both go home at the end of watch. But nothing can prepare them for the violent backlash that happens after they pull over the members of a notorious drug cartel for a routine traffic stop. Seen from the point of view of the officers, gang members, surveillance cameras, dash cams and citizens caught in the line of fire, a 360ø perspective creates a gritty, compassionate and intense portrait of the city's darkest streets, and the brave men and women patrolling them.

Death Race 3: Inferno
Repentant convict Carl Lucas (Luke Goss)- aka Frankenstein- is a legendary driver in the brutal prison blood sport known as Death Race. Only one victory away from winning freedom, Lucas is plunged into his most vicious competition yet: the first-ever desert Death Race. Through South Africa's infernal Kalahari Desert, Lucas is pitted against ruthless adversaries and powerful forces at work behind the scenes to ensure his defeat. Also starring Danny Trejo and Ving Rhames, Death Race 3: Inferno is an insane, action-packed thrill ride.

The Men Who Built America
Vanderbilt, Rockefeller, Carnegie, Morgan, Ford .THE MEN WHO BUILT AMERICA. Meet the titans who forged the foundation of modern America and created the American Dream. The Men Who Built America mini-series shines a spotlight on the influential builders, dreamers and believers whose feats transformed the United States, a nation decaying from the inside after the Civil War, into the greatest economic and technological superpower the world had ever seen. The Men Who Built America is the story of a nation at the crossroads and of the people who catapulted it to prosperity.

Searching for Sugar Man
SEARCHING FOR SUGAR MAN tells the incredible true story of Rodriguez the greatest `70s rock icon who never was. After being discovered in a Detroit bar Rodriguez's sound struck 2 renowned producers and they signed a recording deal. But when the album bombed the singer disappeared into obscurity. A bootleg recording found its way into apartheid South Africa and over the next two decades he became a phenomenon. The film follows the story of two South African fans who set out to find out what really happened to their hero.

Imposter
In 1994 a 13-year-old boy disappears without a trace from San Antonio, Texas. Three and a half years later he is found alive, thousands of miles away in a village in southern Spain with a story of kidnap and torture. His family is overjoyed to bring him home. But all is not quite as it seems. The boy- bears many of the same distinguishing marks he always had,- but why does he now have a strange accent? Why does he look so different? And why doesn't the family seem to notice these glaring inconsistencies? It's only when an investigator starts asking questions that this strange tale takes an even stranger turn.

The Paperboy
A sexually and racially charged film noir from Oscar-nominated director Lee Daniels (Precious), THE PAPERBOY takes audiences deep into the backwaters of steamy 1960s South Florida, as investigative reporter Ward Jansen (Matthew McConaughey) and his partner Yardley Acheman (David Oyelowo) chase a sensational, career-making story. With the help of Ward's younger brother Jack (Zac Efron) and sultry death-row groupie Charlotte Bless (Nicole Kidman), the pair tries to prove violent swamp-dweller Hillary Van Wetter (John Cusack) was framed for the murder of a corrupt local sheriff. Based on the provocative bestselling novel by Pete Dexter (Mulholland Falls, Rush), The Paperboy peels back a sleepy small town's decades-old façade of Southern gentility to reveal a quagmire of evil as dark as a Florida bayou.

Officer Down
One year ago, dirty cop Detective Callahan (Stephen Dorff) was shot in a drug bust gone wrong, and saved by an anonymous stranger who gave him a second chance to clean up his life. But when the stranger finally comes forward, seeking revenge against the men responsible for a string of assaults on young women at a local strip club, Callahan must go rogue to find the attacker, in an effort to hide how his past played a part in these crimes. His desperation to find the attacker, and cover his tracks, takes him down a violent road of deception, cover-ups and fraud. Can he play the "good cop" and track down the assailant, while still keeping his reputation clean?

Universal Soldier: Day of Reckoning
Jean-Claude Van Damme Scott Adkins Andrei "The Pit Bull" Arlovski and Dolph Lundgren star in UNIVERSAL SOLDIER: DAY OF RECKONING which ups the ante in the UNIVERSAL SOLDIER series giving you more hard-hitting bloody no-holds-barred fighting action. John wakes up from a coma to discover his wife and daughter were slaughtered in a brutal home invasion. Haunted by images of the attack he vows to kill the man responsible Luc (Van Damme). While John tries to piece his reality back together things get more complicated when he is pursued by a relentless UniSol. As John gets closer to Deveraux and the rouge army of genetically enhanced warriors led by back-from-the-dead leader Andrew Scott (Lundgren) John discovers more about himself and begins to call into question everything he believed to be true.