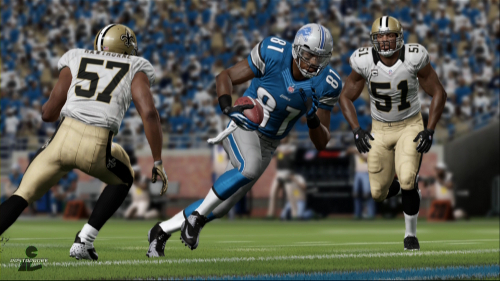 Last year the cover campaign for Madden NFL 13 began in late February with the announcement of the two candidates nominated from each team. The voting started in March and involved trimming the field down by facing them off against each other before moving on to a tournament style bracket. It was a hugely successful initiative for EA Sports and something similar will surely roll out for selecting the cover athlete for Madden NFL 14 as well.
With the initial candidate announcement period nearing it makes sense to evaluate what players are most likely to be a part of the process. EA last year surprised by including some players that were set to be free agents or who had been involved in previous years. Despite that I'll be eliminating a number of those and choosing primarily on who most deserves to be included – performance, status with their team, and national relevance will be a big part of that consideration – and for most teams picking one player from offense and one from defense. Make sure to check out the look at the AFC and continue on for the NFC.
Between Robert Griffin III, Russell Wilson, Colin Kaepernick, and Cam Newton it was the NFC that really introduced the effective read-option onto the scene. Given that, and the necessity that it work well enough to utilize in Madden 14, it would not at all be surprising to have those dual threat quarterbacks in the cover mix and advancing deep into the tournament.
Current/final Madden NFL 13 overall rating in parenthesis
Dallas Cowboys: Dez Bryant (91), Jason Witten (96)
Tony Romo has never been involved in the cover selection process and after the ending to the season he probably won't be again. DeMarcus Ware has had two opportunities and done nothing with them getting knocked out in the first round both times. Bryant stepped up as the season went on finishing with 92 catches for 1382 yards and 12 touchdowns. Meanwhile Witten can get a second chance having not advanced to the tournament portion last year. He broke the record for most catches by a tight end in a season (102) and finished with 110.
New York Giants: Victor Cruz (91), Eli Manning (95)
It was surprising last year that Eli Manning was not in the running coming off a Super Bowl MVP winning performance. Instead Cruz would get past Jason Pierre-Paul and make a run to the final 8. That Manning wasn't involved could suggest that he has reached the Tom Brady/Peyton Manning echelon where the cover offers them nothing of value. If that's not the case then he should be one of the nominees this time around over JPP, Justin Tuck, or Ahmad Bradshaw.
Philadelphia Eagles: LeSean McCoy (94), DeMeco Ryans (85)
The dynasty fell apart quickly in Philadelphia but there are still some talented players in house. McCoy made it to the second round last year and is the most deserving again even though he missed 4 games. He or DeSean Jackson are the flashy names and probably one will get plucked for the competition. Jeremy Maclin could have a shot also as he had the best numbers of the bunch. In his first season with the Eagles Ryans was the best player on a poor defensive unit.
Washington Redskins: Alfred Morris (88), London Fletcher (89)
Though he reached an incredible level of marketability and could very well win Offensive Rookie of the Year it may be best to have Robert Griffin III sit this one out. He's facing recovery from a substantial knee injury that could threaten the start or potentially even entirety of the next season. There will be plenty of Madden cover opportunities down the line. Instead fellow rookie standout Morris having produced 1613 yards and 13 touchdowns could grab the spotlight. That also provides the chance for Redskins fans to salute Fletcher – All-Pro second team, 139 tackles, 3 sacks, and 5 interceptions – for his 6 seasons with the Redskins. Trent Williams, Pierre Garcon, and Santana Moss could also be considered.
Chicago Bears: Charles Tillman (94), Brandon Marshall (96)
First team All-Pro and Pro Bowler Tillman should occupy one spot. He had a tremendous season with 10 forced fumbles, 3 interceptions returned for touchdown, and 16 passes defensed. Fellow corner Tim Jennings could easily have a case to be included. Julius Peppers, Jay Cutler, and Matt Forte have had chances in past years of the tournaments while Brandon Marshall was essentially a third option for the Bears in last year's tournament when he was traded over by the Dolphins until he couldn't get past Reggie Bush. He should get a fair shot with the force of the Bears fans fully behind him after a 118 catches for 1508 yards and 11 touchdowns. The opportunities to honor Urlacher have dwindled and now that he's a free agent it may be too late.
Detroit Lions: Calvin Johnson (99), Jason Hanson (92)
After what many perceive as having broken the "Madden Curse" Calvin Johnson should get the opportunity to repeat. He turned in a record breaking season with 1964 receiving yards coming from 122 catches. His touchdown production plummeted, from 16 the prior season to just 5, and the Lions disappointed but that was hardly his fault. Ndamukong Suh doesn't make for a good potential marketing partner for EA…though they could nominate him knowing that he'd never get by Johnson anyway. Instead how about Jason Hanson get some recognition for his 21 year career – the entirety of which has been spent in Detroit – despite now being a free agent.
Green Bay Packers: Aaron Rodgers (97), Randall Cobb (86)
Last year Rodgers made it to the final four of the tournament before Calvin Johnson wiped him out. Even though this would be his third straight opportunity it seems likely he'll be in the mix yet again. Clay Matthews couldn't get past him in the team round so no point in putting him up again. There are a bunch of high caliber names like Charles Woodson, Jordy Nelson, James Jones, Tramon Williams, and John Kuhn but Cobb is the most dynamic and versatile of the bunch. He had 80 catches with 8 touchdowns, 132 rushing yards, and produced on punt and kick returns.
Minnesota Vikings: Adrian Peterson (99), Blair Walsh (80)
Peterson had a chance in the Madden 12 tournament but came up short. He should be a favorite this time around. As the likely MVP, who will face Peyton Manning in the running for that as well as Comeback Player of the Year, Peterson led the Vikings to the Playoffs while coming up just 9 yards short of the rushing record. Whoever would be paired with him would become a sacrificial lamb and Walsh makes the most sense then. He was 35/38 field goals on the season with 10 coming from 50+ yards.
Atlanta Falcons: Tony Gonzalez (95), Julio Jones (90)
Both Matt Ryan and Julio Jones were involved last year with Ryan (his second straight year in the tournament) advancing to the bracket and losing in the first round. Jones and his 79 catches, 1198 yards, and 10 touchdowns should get a second shot. His playoff performances solidified that with 17 catches for 241 yards, and 2 touchdowns. Gonzalez though would seem to be a lock as he apparently heads into retirement still at the top of his game. 93 catches and 8 touchdowns in the regular season were followed by 15 catches and 2 touchdowns in the postseason. As good of a season he had it's really also career recognition to be up for the cover now.
Carolina Panthers: Cam Newton (91), Thomas Davis (79)
Though he made it all the way to the finals in the tournament last year, and probably deserves another shot, Newton's popularity would seem to be far less now. He had a statistically comparable season but his attitude through team struggles was much more criticized. Davis would likely have been the Comeback Player of the Year if not for the remarkable performances of Adrian Peterson and Peyton Manning. He came back from his third ACL tear to record 103 tackles, 2 forced fumbles, and an interception. Luke Kuechly, Charles Johnson, and Steve Smith also could be in the running.
New Orleans Saints: Drew Brees (95), Marques Colston (91)
No players from statistically the worst defense in the history of the NFL should be a part of this process. So that leaves Drew Brees at the top of the list and he would be the only player to be a part of four consecutive cover votes if that is the case going back to Madden 11. Jimmy Graham was the other option last year and didn't follow up with near as stellar a season. Colston with 83 receptions for 1154 yards and 10 touchdowns gets the call instead. Darren Sproles missed a few games but still caught 75 passes for 667 yards and 7 touchdowns while Jahri Evans, one of the best guards in the NFL, was first team All-Pro and a Pro Bowler.
Tampa Bay Buccaneers: Vincent Jackson (94), Doug Martin (88)
The Bucs looked like a team that would be making a playoff run until they lost 5 of their final 6 games. The biggest reason for early success was the acquisition of Jackson and the emergence of rookie Martin. Jackson turned in 74 catches for 1384 yards and 8 touchdowns while "The Muscle Hamster" was a dual threat with 1484 yards rushing and 472 yards on 49 receptions for 12 total touchdowns. The only others that would seem to have a shot are the safeties – rookie Mark Barron or 16 year vet Ronde Barber who could get rewarded for his career in Tampa.
Arizona Cardinals: Daryl Washington (89), Adrian Wilson (94)
The Cardinals started the season hot then fell apart mostly due to their disastrous QB situation. That meant Larry Fitzgerald would suffer again statistically. He's had two opportunities in cover tournaments now and it doesn't look like it's going to happen for him. Patrick Peterson got the nod last year also due to his return abilities and he improved in coverage this season. The defense was fairly good all year and should get both reps this time. Washington was second team All-Pro and made it to the Pro Bowl with a huge year racking up an impressive 9 sacks and 134 tackles. 12 years of strong play with the Cardinals has earned Wilson some recognition. Calais Campbell would make for a good choice as well.
St. Louis Rams: James Laurinaitis (87), Sam Bradford (85)
The Rams last year got stuck with Brandon Lloyd who ended up with the Patriots so hopefully this year they get two legit players to support. Steven Jackson made perfect sense before but now he's a free agent likely to leave or possibly even retire. Laurinaitis was the only defensive player in the NFL to play every snap of the season and turned in 142 tackles and 2 interceptions anchoring a much improved unit. Bradford suffered through an inconsistent receiving corps, with his best target Danny Amendola oft-injured, yet put up career best numbers in yards and touchdowns. Chris Long (a candidate last year), Cortland Finnegan, Robert Quinn, Janoris Jenkins, and Greg Zuerlein could also be justified.
San Francisco 49ers: Justin Smith (97), Colin Kaepernick (87)
Patrick Willis has been involved in the Madden cover votes the past two years, and though there's a decent chance he is nominated again, for the sake of giving someone else an opportunity I'll go that direction here. The 49ers great defense lost a lot when J. Smith went down and showed just how much value he had in opening up opportunities for others like Aldon Smith who hasn't recorded a sack in the five games since he first got hurt. Kaepernick would be hard for EA to pass up after his big performances in the national spotlight. Others that could get consideration include Frank Gore, A. Smith, NaVorro Bowman, and Vernon Davis.
Seattle Seahawks: Richard Sherman (94), Russell Wilson (89)
Until this season Marshawn Lynch was the identity of the Seahawks and he had a shot, along with Earl Thomas, in last year's competition. Despite great seasons from both they took a back seat to Wilson and Sherman who together led to more national awareness for the team than ever before. Wilson was a great story being drafted in the third round and doubted by almost everyone only to turn in an Offensive Rookie of the Year caliber season tying Peyton Manning's rookie TD passing record with 26. Sherman was a first team All-Pro with 8 interceptions, 3 forced fumbles, and led the league with 24 passes defensed. Pro Bowler Russell Okung and potential Defensive Rookie of the Year Bobby Wagner could also be in the running.