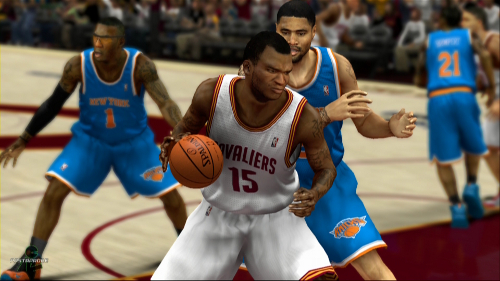 A new roster update for NBA 2K13 arrived today but includes no ratings changes to any players. The trade between the Cavaliers (receiving Marreese Speights, Josh Selby, and Wayne Ellington) and Grizzlies (Jon Leuer) has been reflected. Chris 'Birdman' Andersen has also been added to the Heat roster. Alvin Gentry remains on the sideline as coach of the Suns with the switch to Lindsey Hunter having not yet been completed.
Injury Status Changes: Anderson Varejao (-19 to 57), Lou Williams (-24 to 54), Raymond Felton (returns at 79), Hedo Turkoglu (-3 to 69), Manu Ginobili (returns to 86), Nikola Pekovic (-19 to 57), Alexey Shved (-8 to 63), Meyers Leonard (returns to 59), Cartier Martin (-9 to 58)
Also of note is that the "Acrobat" signature skill has been stripped from players because of an ongoing online gaming tournament. Though an unexpected development given that the sig skills have been part of the game from day one and worked to better define player abilities doing so may be related to a prominent exploit that has plagued the online experience. The Euro Step three pointers should have been addressed by now – and certainly will disrupt that tournament – but disabling the "Acrobat" skill was likely done to reduce the effectiveness of that.