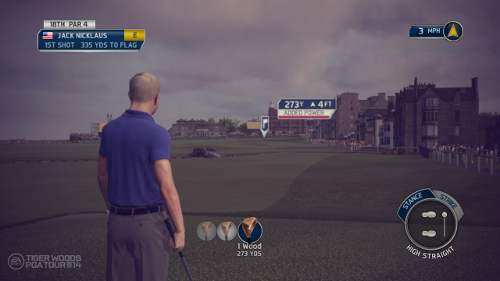 EA Sports has released additional info on some of the enhancements made to gameplay for Tiger Woods PGA Tour 14. Those include the unique time-specific elements of the Legends of the Majors mode, a fifth difficulty level, and additional swing styles. Check out a brand new set of screenshots in the FB album and continue on for the descriptions of improvements and latest video. 
•Go back in time and experience golf through the various eras, starting in the late 1800's through present day. As users advance through the timeline, they will see and feel the true ball physics and equipment representative of each era. In the early eras, ball spin and trajectory are slower and lower in comparison to how the ball reacts to today's equipment. Fans will be able to hit the links with retro golf clubs, such as Mashies, Brassies, Baffing Spoons, Jiggers and Niblicks. Pairing the old equipment with the true-to-life ball physics from those early years gives golf fans an authentic gameplay representation of what it was like to play a round in those eras.
•Presentation elements in Tiger Woods PGA TOUR 14 have been completely revamped to put players right into the action and emotion of a PGA TOUR broadcast. The first thing users will see is new situation specific data, scoring and a broadcast presentation package that emulates a tournament-like television experience. Additionally, statistics will surface throughout each round, letting you track your performance against the rest of the field in a variety of categories such as, driving distance, putts per hole and birdies. This year, Tiger Woods PGA TOUR 14 will feature over 3,300 camera shots, including overhead, close-up and green-side angles in addition to many others. Even the look and feel of Tiger Woods PGA TOUR 14 will shift alongside its real-life majors as players will also see the leaderboards that are distinct and synonymous with the Masters Tournament, U.S. Open, The Open Championship and the PGA Championship.
•Twenty four unique golfer swing styles are available this year, enabling players to customize gameplay to the next level. Users can tailor the career mode golfer by selecting power versus control, fade versus draw, trajectory and handedness. Players now have the opportunity to choose whether they want to be a power-draw hitter like Dustin Johnson or swing like Luke Donald who has pin point accuracy off the tee. Each pro golfer in Tiger Woods PGA TOUR 14 has their own authentic swing style.
•This year's game features a new enhanced Strike Meter which enables gamers to hit the ball with consistency out of any lie with a properly executed stroke. The Strike Meter introduces a left to right movement to simulate scenarios players would face in real life, such as side hill lies which demand an altered reach, to create an authentic ball striking experience in any given situation.
•A fifth difficulty setting has been added to Tiger Woods PGA TOUR 14 this year. Simulation difficulty was designed for those players who want to experience what the PGA TOUR pros face each week. In Simulation difficulty, the swing meter, green grid, zoom to aim, along with other aids are turned off. This mode is the truest test of skill for the hardcore fans. With this difficulty setting, users can implement the new advanced shot shaping feature to work the ball and attack courses with creativity, just like the pros and Legends.