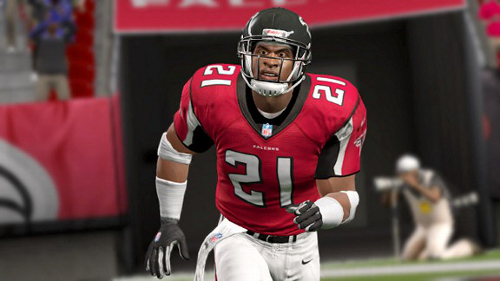 The voting in the quarterfinals for both brackets in the Madden NFL 25 cover campaign continues until next Wednesday with support being cast through the ESPN SportsNation page. The lowest seeds remaining are two fives and otherwise it's all the big names that were expected to still be around at this point. That could change though heading into the semifinals. Colin Kaepernick, Ray Lewis, and Andrew Luck are higher rated seeds in their respective pairings who have demonstrated clear vulnerability within the earlier rounds. 
#1 Joe Montana
vs #4 Dan Marino
Results thus far suggest this pairing could be closer than the 1 vs 4 seeding suggests. Montana's first round number is irrelevant but his 78% over Jerome Bettis wasn't especially impressive. On the other side Marino topped Marshall Faulk by 16% in what appeared going in to essentially be a toss-up with advantage going to Faulk having been a previous cover athlete.
#3 Barry Sanders
vs #2 Ray Lewis
An over-saturation in the media of Lewis was bound to hurt him eventually. It really didn't end up mattering though as Sanders has looked unstoppable. Assumptions that his appearance on the cover of and playable within NCAA Football 13 would make him less appealing here has not been realized. 95% and 92% wins, albeit against weak competition, gives him the largest margin of victory in the field. Lewis only managed 62% against LaDainian Tomlinson.
#1 Jerry Rice
vs #5 Michael Strahan
Strahan has proven more formidable in the competition than expected. He pulled off the only upset of the last round by taking 51% over Kurt Warner. He's no match for Rice however. He's one of three entrants to have taken in over 90% in both rounds.
#2 Deion Sanders
vs #3 Troy Aikman
Sanders vs Rice would be an incredibly intriguing semifinal in the legends bracket. Either Cowboys support hasn't been notably strong or anti-Cowboy sentiment has been as Dez Bryant got wiped out last round and Aikman only took 79% against Deuce McAllister and 66% up against Troy Brown. Meanwhile Sanders, who's repping the Falcons rather than the Cowboys, should also split some of the pro-Cowboy support allowing him to win here with relative ease.
#4 Arian Foster
vs #1 Colin Kaepernick
Kaepernick has the smallest margin of victory among the remaining candidates despite having the benefit of being placed as a top seed. Meanwhile Arian Foster over-performed against Julio Jones compared to expectations. He enters in stronger position than A.J. Green who Kaepernick was only able to manage 54% against.
#3 Russell Wilson
vs #2 Andrew Luck
Wilson has surpassed Luck in terms of national awareness and marketing so he enters as the favorite over the higher seeded Luck who only pulled 53% over Clay Matthews showing he's in big trouble here. It's hard to imagine Wilson not being more than 3% stronger than Matthews.
#1 Robert Griffin III
vs #5 Ray Rice
Though Rice has received strong support thus far it's a tough task to take on RG3 who appears destined for a showdown with Adrian Peterson. This one won't be a blowout it would be somewhat of a surprise if Rice drew more than 40%.
#2 Adrian Peterson
vs #3 Rob Gronkowski
No one is stopping AD yet. He may have faced very weak competition but the 90%+ in each round can't be discounted. Gronkowski has done alright – Darrelle Revis wasn't a cakewalk – but there's no evidence he can even make this a close one.