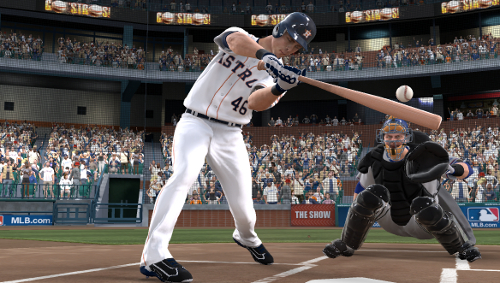 Similar to what was first introduced in NBA Live 09 as the "Rewind" feature, with later variations on the concept having been incorporated by NBA 2K and MLB 2K, "The Show Live" in MLB 13: The Show offers the opportunity to play the current day's match-ups or go back and play any from earlier in the season with rosters (fed in from MLB.com) accurate to the game in question. With the season opening up last night it's important to check on how everything is working thus far as modes of this type are not able to be evaluated by reviewers given they don't have relevance until weeks after release. 
Two hours prior to gametime MLB.com had the lineups for the evening's Rangers at Astros opener. At that point it wasn't entirely correct in The Show with the Astros having the batting order mixed up and wrong players in at shortstop and right field. 45 minutes before gametime The Show had the proper lineups and batting orders set however.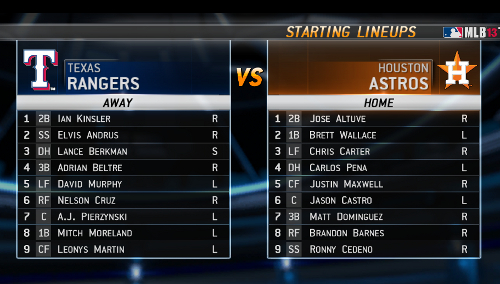 While the starting lineups were correct some of the players on the roster were not. Those missing included Edgar Gonzalez, Josh Fields, Luery Garcia, Julio Borbon, Robbie Ross, and Joe Ortiz. Among players improperly on the two teams were Dallas Braden, Brian Wilson, Francisco Rodriguez, Kyle Lohse, Daisuke Matsuzaka, and Tim Stauffer.
Anyone who had not played in a major league game yet (Fields, Garcia, Ortiz) would not be eligible to be in The Show until they have made their first appearance. It is unclear what SCEA is doing to determine the players that take their spot in the meantime. Generic replacements would be better than pulling in random free agents.
The following afternoon now and the stats from the game are showing properly. The inaccuracies in terms of roster makeup have not been corrected however. Hopefully it will be at some point soon as one of the central marketing points is being able to go back to a previous date and play with the exact lineups of the time. Having players that weren't on the team in favor of those who actually were would make the mode far less appealing.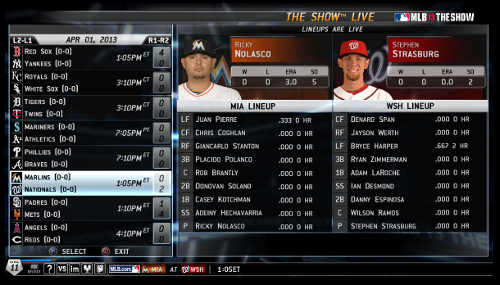 Commentary in The Show Live reportedly will feature references to recent events and the goings-on of the season. Given that it was Opening Day the commentary wouldn't have anything new to pull from. Another look at the mode will be made later this week to see how the rosters are being represented and if the commentary delivers as advertised.