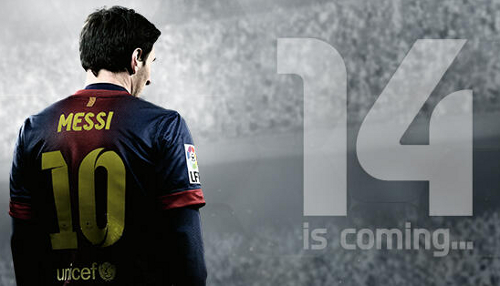 On the heels of an especially early reveal of features for NHL 14, EA Sports has announced that tomorrow will bring the first details regarding FIFA 14. Last year the initial news on FIFA 13 came May 8th so this isn't as huge a departure from the typical schedule as was the case with NHL but is still earlier than usual. 
The first news for FIFA 13 included details on the "First Touch Control", tactical free kicks, and attacking AI. It's likely then that (as too was largely the case with NHL) the first info for FIFA 14 will relate to gameplay and technical engine improvements.
Though FIFA 14 is expected to be a launch title for the PS4 and next Xbox any discussion of the game at this time should be expected limited to the Xbox 360 and PS3 versions. Whether EA has plans to put out any sports games on the Wii U or Vita is something to monitor as well but neither is likely to be mentioned. The early marketing push for these games could have to do with the looming next-gen consoles as EA attempts to avoid overshadowing the current generation releases arriving this fall by giving them their time to shine prior to E3.