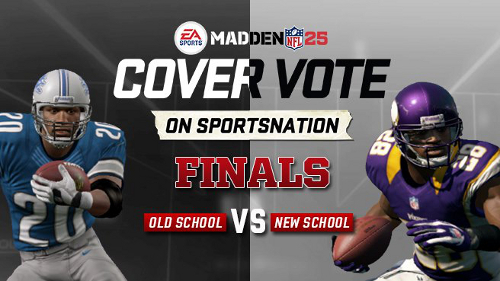 The cover campaign featuring both legends and current stars for Madden NFL 25 has now reached the final stage. The "Old School" and "New School" brackets have produced a winner and they now face off for the cover honors.
Adrian Peterson takes on Barry Sanders for the rights to the cover. Peterson has steamrolled the competition throughout with the 64% over Arian Foster being the closest contest for him. Sanders, who was recently on the cover of NCAA Football 13 and featured playable in that game as well as Madden NFL 13, edged out Jerry Rice with 52% to advance.
Voting is completed through the ESPN SportsNation page. The final round runs until next Wednesday – the announcement of the winner being made that day before the NFL Draft begins.