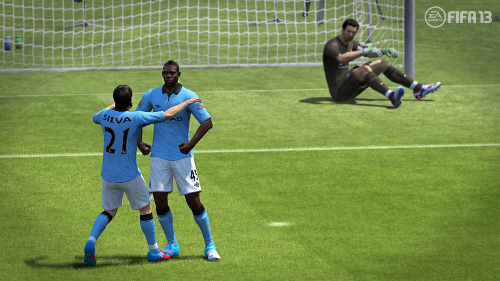 The biggest sports video game series in the world is showing no signs of slowing down following several years in a row of breaking its own records. FIFA 13 sold nearly 15 million copies from its release late last September through the end of March. That represents a 30% increase over what FIFA 12 sold over the same period. 
Digital revenue continues to climb at a rapid rate due primarily to the popularity of Ultimate Team mode. FIFA 13 has collected over $200 million in digital revenue. That is a stunning 94% higher than what FIFA 12 pulled in which was already a hugely significant amount.
In other news EA laid out their schedule of announced titles which still does include NBA Live 14 despite continued trouble internally at Tiburon. FIFA 14 is set to arrive on consoles, PC, and mobile with FIFA Manager 14 as usual available just on the PC. All all other sports titles (Madden NFL 25, NHL 14, NBA Live 14) are only slated for console release.
While the Wii U looks unlikely to receive any of them there is still no word on whether the PlayStation Vita will be supported with one or more of the sports titles later this year. Next-gen releases have not been officially announced but Madden, FIFA, and maybe even NBA Live (which could go just next-gen and skip 360/PS3) are expected to be ready for launch. The question is whether that'll only be on the next Xbox or the PS4 as well.