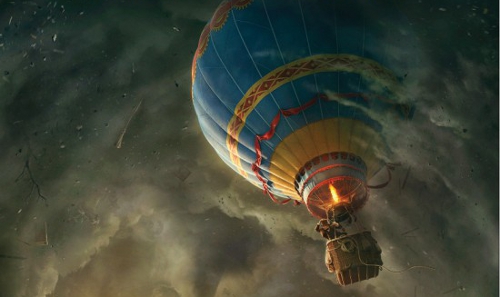 Oz the Great and Powerful
Disney's fantastical adventure Oz The Great And Powerful, from the director of the Spider-Man trilogy,follows Oscar Diggs (James Franco), a small-time circus magician with dubious ethics. When Diggs is hurled away to the vibrant Land of Oz, he thinks he's hit the jackpot — until he meets three witches (Mila Kunis, Rachel Weisz and Michelle Williams), who aren't convinced he's the great wizard everyone's expecting. Reluctantly drawn into epic problems facing Oz and its inhabitants, Oscar must find out who is good and who is evil before it's too late. Putting his magical arts to use through illusion, ingenuity — and even some wizardry — Oscar transforms himself into the great wizard and a better man as well.

Snitch
Dwayne Johnson explodes into action as a man determined to bring a Mexican cartel to its knees. Johnson stars as a successful businessman who learns his son faces 10 tough years in a Federal hole for drug possession. Convinced it was a set-up, he volunteers to become an undercover informant and infiltrate a ruthless cartel. Now, with his back against the wall and his life totally on the line, he must expose the true criminals before they discover his identity.

Hansel & Gretel: Witch Hunters
After getting a taste for blood as children, Hansel (Jeremy Renner) and Gretel (Gemma Arterton) have become the ultimate vigilantes, hell-bent on retribution. Now, unbeknownst to them, Hansel and Gretel have become the hunted, and must face an evil far greater than witches…their past.

Lilo and Stitch: Two Movie Collection
The movie has a rocking soundtrack fit for a "King." Six of Elvis Presley's biggest hits, sung by the King himself, are included in the film: "Heartbreak Hotel," "Stuck On You," "Blue Hawaii," "Suspicious Minds," "Devil In Disguise," and "Hound Dog."

The Newsroom: Season One
HBO presents the new one-hour drama series from the fertile mind of Aaron Sorkin (The Social Network) and executive produced by Sorkin, Scott Rudin and Alan Poul. Smart, topical, humorous and highly entertaining, The Newsroom takes a behind-the-scenes look at a high-rated cable-news program at the fictional ACN Network, focusing on the on- and off-camera lives of its acerbic anchor (Jeff Daniels), new executive producer (Emily Mortimer), their newsroom staff (John Gallagher, Jr., Alison Pill, Thomas Sadoski, Olivia Munn, Dev Patel and others) and their news-division boss (Sam Waterston). Overcoming a tumultuous first day together – climaxing in a newsflash that a BP oil rig has just exploded in the Gulf of Mexico – the team sets out on a patriotic if quixotic mission to "do the news well" in the face of corporate and commercial obstacles, and their own personal entanglements.

Burn Notice: Season Six
There's trouble in paradise for former CIA operative Michael Westen and his cohorts, and the streets of Miami are hotter – and deadlier – than ever before in the action-packed, adrenaline-charged sixth season of Burn Notice! In hot pursuit of his old nemesis, Michael must take down Anson Fullerton and find a way to free Fiona from prison, where she is being targeted by a murderous foe. Michael goes full force to save Fiona as he takes on cold-blooded assassins, diabolical drug cartels, uneasy alliances, and explosive danger at every turn, until an unthinkable tragedy leaves him reeling and rocks his team to the very core.

Major Crimes: Season One
The detectives in the Los Angeles Police Department's Major Crimes division are still reeling from the departure of Brenda Leigh Johnson and the realization that Captain Raydor is now in charge. Unlike their previous chief, Raydor is determined to lead the department with a more team-oriented approach, sharing the credit with the people with whom she works. Raydor's hardest job, however, will be gaining the full trust and confidence of her detectives, who aren't quick to forget her long history of internal investigations targeting them and their previous boss. Especially troublesome is Provenza, who has a difficult time taking orders from someone he doesn't think knows as much as he does.

Necessary Roughness: Season Two
Golden Glober nominee Callie Thorne (Rescue Me) returns in Season Two of the critically acclaimed series Necessary Roughness. It's a new football season, and as the Hawks get ready to take the field again, Dr. Dani Santino (Thorne) has a new set of issues to tackle both personally and professionally. Between juggling a new relationship with Matt (Mark Blucas), handling her own unpredictable teenagers, and dealing with emotional athletes on and off the field – including the wild antics of star player TK King (Mehcad Brooks, True Blood) – the pressure is definitely on Dani to hold it all together.

Fairly Legal: Season Two
Kate Reed (Sarah Shahi, The L Word) never faced a fight she didn't want.to win. A former lawyer, she's now a mediator who loves to resolve others' conflicts. But it's often her own conflicts that could use some attention. In season two, Kate returns to the firm and discovers that Reed & Reed is on the verge of financial collapse. To save the firm, up-and-coming trial attorney Ben Grogan (Ryan Johnson, CSI: NY) is brought on as a partner. However, Kate finds herself both clashing with Ben's aggressive, ambulance-chasing ways and yet, romantically drawn to him. Further complicating matters are Kate's relationships with managing partner/stepmother Lauren Reed (Virginia Williams, How I Met Your Mother) and soon-to-be-ex-husband A.D.A. Justin Patrick (Michael Trucco, Revenge).

House of Cards: Season One
Francis Underwood is Majority Whip. He has his hands on every secret in politics – and is willing to betray them all to become President. Kevin Spacey stars in this Netflix original Drama series.