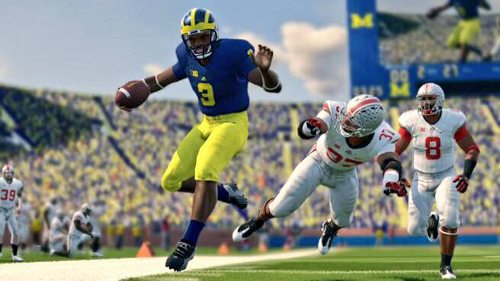 Considering it has only been available to utilize once in the last nine months it seemed timely to discuss the EA Sports Season Ticket program with NCAA Football 14 next in line for early release through the subscription service. 
NCAA Football 14 will go live to download Friday July 5 in the afternoon on the Xbox 360 and PS3 through Season Ticket. The digital download will then remain active until the early AM hours on Tuesday July 9 and from then on a retail or digitally purchased copy will be needed to continue. Game saves and achievements will carry over. The Season Ticket subscription is $25 for a full calendar year and currently includes NCAA, Madden NFL, FIFA, and NHL.
There is also a bonus for NCAA provided for Season Ticket subscribers. 24 All-American Packs (which is claimed to be over $30 in value) for use in the new Ultimate Team mode to be distributed over a 24 week period. One goal of Ultimate Team has always been to have consumers keep the game in the console longer and trying to hook people for six months with a bonus is evidence of that. 20% continues to be the discount for Season Ticket subscribers on any downloadable content purchased.
Unfortunately Ultimate Team will not be accessible during the Season Ticket run. To date only FIFA 13 allowed early release subscribers to play Ultimate Team and all others have blocked it.
EA Sports has a couple issues to address with Season Ticket that they have been dodging. With no Tiger Woods next year what will be taking its place in the program? Limiting the set of games to four reduces the value of the package. In addition will subscriptions carry over to next-gen and will it even exist there? Obviously launch day titles with the new consoles are irrelevant here (there's no early access to games possible without the consoles!) but EA Sports UFC next spring and then the '15 crop of titles will matter to many who consider signing up for Season Ticket in the next few months and question whether it would be worth it to do so.
(Update) Based on the countdown timer NCAA 14 will go live to download at 1PM ET/10AM PT on Friday July 5.