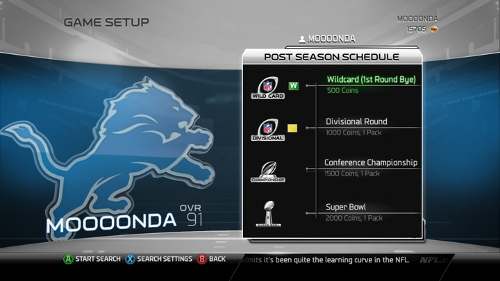 EA Sports today released details on the improvements coming to Ultimate Team mode in Madden NFL 25. The mode will reintroduce "Chemistry" as a factor in building teams while a new Head-to-Head Seasons mode will offer up competition in 10 game "seasons" capped by playoffs to move up to the next level. Setting the team's "Best Lineup" will now be easier to do and incorporates all players rather than just the active ones as was previously the case.
♦Team Chemistry adds a new wrinkle to Madden Ultimate Team, with on-field performance enhanced depending on how well teammates mesh. With four offensive and four defensive styles to choose from fans must determine their team identity and then fill their roster with players who not only look good on paper, but also fit into the scheme. Upping Chemistry will unlock team bonuses, and the more in-sync your team is the bigger the boost.
Offense
Short Pass
Long Pass
Ground & Pound
Speed Run
Defense
Zone Defense
Man Defense
Pass Rush
Run Stuff
♦The new Head-to-Head Seasons mode provides an exciting twist on the traditional formula, pitting players against one another in a 10-game season with a playoff for those who qualify. Try to earn a first round bye, and then storm through the playoffs in order to win coins and reward packs. With 8 levels of competition there's always a new challenger waiting to test your skills.
♦This year also marks an overhaul to Best Lineup, where a simple tap of a button will sort through your entire collection and put together your highest-rated team on both offense and defense. Those with a large roster of both active and reserve players who don't want to spend a lot of time organizing can simply tap Best Lineup and immediately see their most formidable squad.