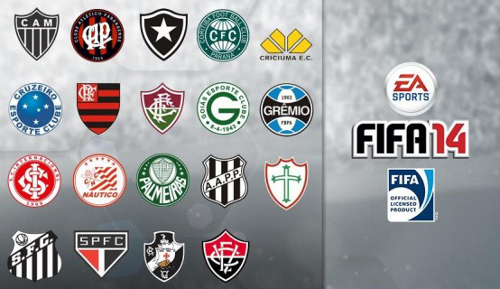 EA Sports today announced that 19 officially licensed clubs from Brazil are being introduced in FIFA 14 which will now feature over 30 leagues, 600 clubs, and 16,000 players.
FIFA 14 will feature nearly twice as many officially licensed Brazilian clubs over the last iteration of the game, including 18 teams from the Série A. The 19 Brazilian clubs who have been officially licensed and will be showcased in-game are: Atlético Mineiro, Atlético Paranaense, Botafogo, Coritiba, Criciúma, Cruzeiro, Flamengo, Fluminense, Goiás, Grêmio, Internacional, Náutico, Palmeiras, Ponte Preta, Portuguesa, Santos, São Paulo, Vasco da Gama, and Vitória.
Additional announcements regarding new leagues and clubs are planned prior to current-gen release in late September and all will appear on the next-gen versions as well.