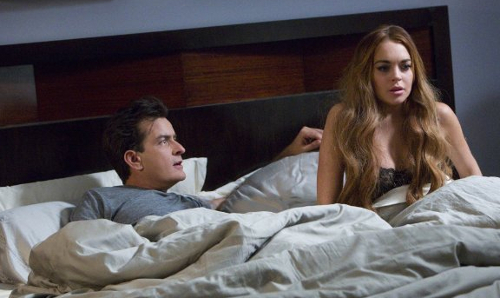 Epic
From the creators of Ice Age comes the year's funniest, most exhilarating animated adventure! Transported to a magical world, a teenager (Amanda Seyfried) is recruited by a nature spirit, Queen Tara (Beyoncé Knowles), to help the "Leafmen" save their forest from evil warriors. The whole family will love this fast-paced thrill-ride, with its astonishing animation and an all-star voice cast that includes Colin Farrell, Oscar Winner Christoph Waltz and Steven Tyler!

Scary Movie 5
Home with their newly-formed family, happy parents Dan and Jody are haunted by sinister, paranormal activities — disrupting new mama Jody's dancing aspirations in the "Swan Lake" ballet and threatening Dan's rise as an ape researcher. Determined to expel the insidious force, they install security cameras and discover their family is being stalked by an evil dead demon! The latest installment of the SCARY MOVIE franchise includes hilarious, non-stop send ups of some of the biggest recent cinematic hits and pop culture, featuring Ashley Tisdale, Charlie Sheen, Lindsay Lohan, Snoop Dogg, Katt Williams, Katrina Bowden, Kate Walsh, Heather Locklear and Mike Tyson.

Star Trek Into Darkness (Instant Video Exclusive)
When the crew of the Enterprise is called back home, they find an unstoppable force of terror from within their own organization has detonated the fleet and everything it stands for, leaving our world in a state of crisis. With a personal score to settle, Captain Kirk leads a manhunt to a war-zone world to capture a one man weapon of mass destruction. As our heroes are propelled into an epic chess game of life and death, love will be challenged, friendships will be torn apart, and sacrifices must be made for the only family Kirk has left: his crew.

Killing Season
Deep in the Appalachian mountains, a reclusive American military veteran (Robert De Niro) and a European tourist (John Travolta) strike up an unlikely friendship. But when the tourist's true intentions come to light, what follows is a tense battle across some of America's most forbidding landscape proving the old adage: the purest form of war is one-on-one.

Shadow Dancer
When single mother Collette McVeigh (Riseborough) is arrested for her part in an aborted IRA plot in London, an MI5 officer (Owen) offers her a choice: lose everything and go to prison or return to Belfast to spy on her own family. With her son's life in her hands, Collette chooses to place her trust in the MI5 and return home. When her brothers' secret operation is ambushed, suspicions of an informant are raised and Collette finds both herself and her family in grave danger.

Amour
Insightful. Original. Exquisite. Georges and Anne have known a lifetime of love within their intimate marriage. Though their bond has survived time's test, it's about to meet its greatest challenge. Acclaimed director Michael Haneke brings a performance tour-de-force to the screen in a film that exalts the beautiful, compassionate and courageous within us all.

Boardwalk Empire: Season 3
One of HBO's signature shows, this one-hour drama chronicles the life and times of Enoch "Nucky" Thompson (Golden Globe winner Steve Buscemi), Atlantic City's undisputed czar at a time when Prohibition proved to be a major catalyst in the rise of organized crime in America. Picking up 16 months after Season 2 ended, Season 3 begins on New Year's Eve 1922-23. The Roaring '20s are about to start; though the economy is booming, alcohol has become scarce, competition is fierce, and gangster violence is heating up. Amidst this backdrop, Nucky, whose marriage to Margaret (Kelly Macdonald) has become a sham after she signed away his highway windfall to the church, faces new competition in the person of Gyp Rosetti (new cast member Bobby Cannavale), who builds a new strategic bulkhead between New York and Atlantic City in an effort to siphon off Nucky's alcohol business. The conflict brings out the best and worst in Nucky, who proves his brutal mettle in a series of violent encounters – including a climatic facedown with Gyp in the Season 3 finale. New and familiar faces also undergo compelling metamorphoses as the 12 new episodes of Boardwalk Empire unfold.

Being Human: Season 5
Hal, Tom and Alex are three housemates with some serious issues on their hands, and they're not just about household chores. Hal (Damien Molony) is a 500 year-old vampire, Tom (Michael Socha) is a hardened werewolf and Alex (Kate Bracken) has recently had the misfortune of becoming a ghost. But threat lurks around every corner. There is the volatile and deluded Crumb (Colin Hoult) – a newly recruited vampire, and the sinister Mr Rook (Steven Robertson) – head of a secret government department. With bills to be paid, our heroes take jobs in Barry's kitschest hotel, but alongside the flock wallpaper and the cocktail umbrellas dwells an evil greater than anything faced before. On the face of it, Captain Hatch (Phil Davis) is just another foul-mouthed decrepit old man but he hides a dark secret that threatens not only our heroes' friendships but the entire world.

NCIS: Season 10
NCIS (Naval Criminal Investigative Service) is more than just an action drama. With liberal doses of humor, it's a show that focuses on the sometimes complex and always amusing dynamics of a team of special agents forced to work together in high-stress situations. From murder and espionage to terrorism and stolen submarines, these special agents travel the globe to investigate all crimes with Navy or Marine Corps ties.

NCIS: Los Angeles Season 4
NCIS: LOS ANGELES is a drama about the high stakes world of the Office of Special Projects (OSP), a division of NCIS that is charged with apprehending dangerous and elusive criminals that pose a threat to the nation's security. By assuming false identities and utilizing the most advanced technology, this team of highly trained agents goes deep undercover, putting their lives on the line in the field to bring down their targets.

Parenthood: Season 4
Family dynamics are shifting for all three generations of The Braverman clan in the critically acclaimed fourth season of Parenthood. Everything changes for Adam and Kristina as they receive shocking news, while Sarah contemplates how her priorities affect her future. As Julia and Joel adjust to life with their adopted son, Crosby and Jasmine settle into their roles as husband and wife. Featuring guest stars Ray Romano (Everybody Loves Raymond) and Jason Ritter (The Event), watch all 15 smart, funny and heartwarming episodes about life's unexpected hurdles and those who help us conquer them: family.

Mike & Molly: Season 3
The third season starts in Paris, where Mike and Molly are getting ready to leave their honeymoon and embark on their journey as a married couple. Adjusting to their new lives at home won't be easy, since they will be living with Molly's overindulgent sister, Victoria, and her smart-talking mother, Joyce. Sharing the already crowded house will prove challenging for the newlyweds, especially when they decide to start trying for a baby. Join Mike and Molly in their hilarious journey as they discover the ups and downs of this next chapter of their lives as newlyweds.

The Good Wife: Season 4
THE GOOD WIFE is a gripping blend of courtroom drama, politics and steamy personal relationships that stars Emmy and Golden Globe Award winner Julianna Margulies as Alicia Florrick, a wife and mother who reclaims control of her personal and professional lives after her husband, Peter, is embroiled in a sex and political corruption scandal. As Alicia adapts to changes at home and at work as a defense attorney, she continues to redefine and rediscover the woman she wishes to be.

Revenge: Season 2
Emily Thorne returns to the Hamptons with a vengeance. Her enemies may be the same, but her mission now takes on a new, suspenseful twist. Feel the power of television's most seductive series, as the action and the passion hit new heights in all 22 episodes of Revenge: The Complete Second Season on DVD. Emily will stop at nothing to uncover the secrets of her father's murder, but the web of deceit is larger than she ever imagined. Now, with her mother (Jennifer Jason Leigh) in the picture, even more will be revealed. Watch the sparks fly as Daniel and Ashley begin a torrid romance, while stunning events change the face of Amanda and Jack's relationship, and new faces mean more trouble for Emily and Victoria, while a mysterious man from Emily's past adds to her complications. Relive every biting and brilliant episode of Season Two, complete with never-before-seen bonus features that will lure you even deeper into the drama. Revenge: The Complete Second Season on DVD is addictive entertainment that will have you begging for more!