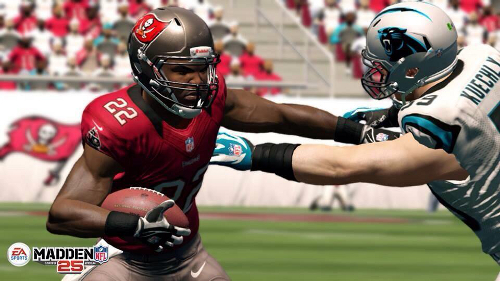 Though not widespread there are a number of consumers experiencing freezing issues in Madden NFL 25. A thread with well over 200 replies on the official EA forum documents the problems and potential temporary solutions.
What seems to be working for those unable to even reach the main menu involves avoiding the connection made to the EA servers on initial boot-up. When loading the game there will be a point where the notification appears that connection is being made to the servers. Hit B or circle to cancel that. Once in the menus connection to the servers can be achieved manually or by simply loading up an Online Franchise, Ultimate Team, or online game.
In other cases some have found deleting the demo off their hard drive, clearing system cache, deleting the game data utility files, and even deleting the release day patch and going without it (which would mean not being able to play online) have allowed them to reach areas they were previously unable to.
Regardless there doesn't seem to be a solution that addresses the freezing in all the different areas of the game where users are finding trouble. EA Sports has not responded when contacted for comment on the matter. A patch to fix whatever is causing the problems could be weeks away. Hopefully for those hitting a wall with their game one of the workarounds will help until a permanent fix arrives.