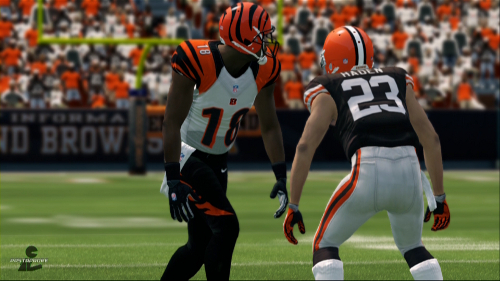 A quarter of the NFL season is now in the books for all but two teams offering a now significant stretch of data to consider when evaluating player ratings in Madden NFL 25. Injury wise the biggest names to face extend periods of time missed following this last weekend's games are Jake Locker, Vince Wilfork, Dwight Freeny, and T.J. McDonald. 14 players will be returning from suspension this week as well.
Some of the players that can be expected to rise off strong week four performances include Philip Rivers, Brian Hoyer, Reggie Bush, Darren Sproles, Kenbrell Thompkins, Jordan Cameron, Nate Solder, Clinton McDonald, Tamba Hali, Kiko Alonso, Joe Haden, Aqib Talib, Alterraun Verner, and Louis Delmas. Among those likely to drop are Joe Flacco, Eli Manning, Sam Bradford, Ryan Tannehill, Andy Dalton, Geno Smith, Chris Johnson, Mike Adams, Lane Johnson, Vladamir Ducasse, Morris Claiborne, and Cortland Finnegan.
As always leave your thoughts in the comments as to who should rise or fall in the upcoming Madden NFL 25 roster update!