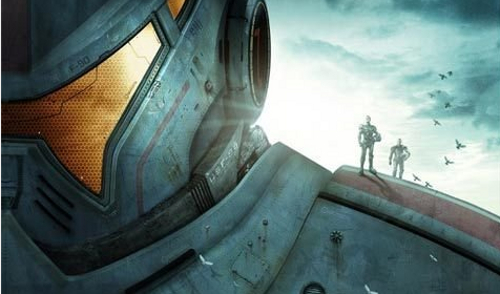 Pacific Rim
When legions of monstrous creatures, known as Kaiju, started rising from the sea, a war began that would take millions of lives and consume humanity's resources for years on end. To combat the giant Kaiju, a special type of weapon was devised: massive robots, called Jaegers, which are controlled simultaneously by two pilots whose minds are locked in a neural bridge. But even the Jaegers are proving nearly defenseless in the face of the relentless Kaiju. On the verge of defeat, the forces defending mankind have no choice but to turn to two unlikely heroes a washed up former pilot (Charlie Hunnam) and an untested trainee (Rinko Kikuchi) who are teamed to drive a legendary but seemingly obsolete Jaeger from the past. Together, they stand as mankind's last hope against the mounting apocalypse.

The Heat
Oscar Winner Sandra Bullock and Oscar Nominee Melissa McCarthy team up in this outrageously funny comedy from the director of Bridesmaids, Paul Feig. Uptight FBI Special Agent Sarah Ashburn (Bullock) and foul-mouthed Boston cop Shannon Mullins (McCarthy) couldn't be more incompatible. But when they join forces to bring down a ruthless drug lord, they become the last thing anyone expected…buddies.

Maniac
Frank (Elijah Wood, The Lord of the Rings) leads a deceptively peaceful life: to the outside world, he s a withdrawn and somewhat eccentric owner of a mannequin store. But his quiet façade masks an inner rage that forces him to brutally kill the women who manage to get too close to him. When a young artist named Anna (Nora Arnezeder, Safe House) appears one day at Frank s shop and asks for his help with her new exhibition, Frank develops an obsession with her that threatens to completely destroy his already fragile psyche. Soon the streets become unsafe for any woman after dark as this newly-awakened maniac begins to stalk and kill. A 21st century Jack the Ripper story set in present day Los Angeles, MANIAC is an intimate, visually daring, psychologically complex and profoundly horrific trip into the downward spiraling nightmare of a killer and his victims.

The Colony
Laurence Fishburne (The Matrix), Bill Paxton (Aliens) and Kevin Zegers (Dawn of the Dead), headline an all-star cast in this savage and unrelenting thriller about mankind's greatest enemy: himself. As an endless winter engulfs Earth, humans struggle to survive in remote underground outposts. When Colony 7 receives a distress call from a nearby settlement, Sam (Zegers) and Briggs (Fishburne) race through the snow on a dangerous rescue mission. What they find at the desolate base could mean mankind's salvation—or its total annihilation. Terrifying discoveries will unfold that will change the rules of survival forever.

Shrek: The Musical
The greatest fairy tale never told comes to life as never before in SHREK THE MUSICAL, the highly acclaimed Broadway production based on the smash-hit movie. Called a "triumph of comic imagination" that "never stints on spectacle or laughs", SHREK THE MUSICAL received eight 2009 Tony Award nominations including Best Musical. Featuring a fantastic score of 17 all-new songs, along with unforgettable characters and outrageous humor, it's ogre-sized fun for the whole family!

Let Me Explain
Kevin Hart, one of today's most successful comedians, delivers a hysterically funny performance in this record-breaking, sold-out, live performance from Madison Square Garden.

Vikings: Season One
Journey to a thrilling ancient world in this epic new series about history's bravest and most brutally fearsome warriors…VIKINGS. Ragnar, a would-be Viking chieftain, longs to fulfill his destiny as an explorer and conqueror, alongside his ambitious brother Rollo and loyal wife Lagertha. But as Ragnar leads daring raids in distant realms across the ocean, treacherous forces in his Norse homeland conspire against him. Faced with shocking betrayals and the temptations of a mysterious seductress, Ragnar must wage war on the battlefield — and within himself — to protect his freedom, family and life. Includes 9 episodes with extended and alternate scenes.

Star Wars: The Clone Wars – Season Five
Executive Producer George Lucas and Lucasfilm Animation present Star Wars: The Clone Wars The Complete Season Five. The galaxy's conflicts reach critical levels of danger as the shadow of the dark side looms. A Rebellion is born as freedom fighters battle for justice on the Separatist-held planet of Onderon. A group of Jedi younglings' new strengths are tested by pirates. Seeking revenge, the ruthless Darth Maul comes face to face with Obi-Wan Kenobi. Ahsoka Tano's loyalty to the Jedi is challenged when she must prove her innocence for a crime she didn't commit. With unparalleled animation and sound, Star Wars: The Clone Wars The Complete Season Five delivers explosive action, exotic worlds and shocking twists of fate as several major players face their destinies.