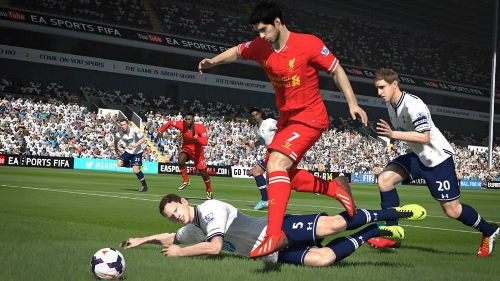 With only a matter of weeks until release of the PS4 and Xbox One much remains a mystery surrounding the four sports titles arriving along with them. There has been talk of features though not much in the way of actual details and glimpses of the games in action but so limited that it has created uncertainty in forming even the most reasonable of expectations. 
FIFA 14 was the first game to get true exposure by appearing at various conventions where gameplay footage was captured off-screen. Since initial announcements however EA Sports has not pushed the game in a fashion that would have been expected for its flagship series. Direct captured gameplay footage is non-existent and attempts to go further into specific features and improvements has been few and far between.
Madden NFL 25 has been the most inconsistent of the bunch in terms of messaging and media. Focus on the Ignite Engine early hasn't paid dividends with videos showing deficiencies in those very areas. Bad highlight videos and disappointing gameplay glimpses have only been countered by a few good examples of offensive and defensive line interaction. More and more reports from those who have played the game identify it as essentially the same as current-gen just with some improvements to graphics.
NBA Live 14 needed to take advantage of opportunity prior to October and EA failed to do so and all they've done since is to show a few limited looks at the game that have been harshly received. Talk over the summer of how the company recognized they needed to prove what they were saying and that they would do just that was misleading. It's possible the game slipped behind where they thought it would be and that is why they have avoided showing it and more recently they may have retreated when the competition proved even stronger than anticipated. Launching four days after the PS4 arrives will significantly damage potential sales as well and the decision making from EA on that represents another discouraging sign.
NBA 2K14 has put its graphical prowess on full display and talked about some new features. Only surface details have been scratched though. It would be more unnerving not having the full picture of how the product shapes up if consumer confidence in the series were not so high but still everything needs to be made clear soon. Ironically 2K Sports is taking on the role of last generation transition EA Sports by changing up the product fairly dramatically rather than just producing a straight port. That puts them in a position where they should be discussing and clarifying as much as possible about what to expect.
What is distressing is that both companies have yet to even provide complete accurate product descriptions to retailers. In the case of NBA 2K14 most have simply copied over current-gen details when the next-gen game is significantly different. At this point only 2K14 and FIFA have shown enough to generate any excitement or reason for optimism and even still they need to do more. The next two weeks will either be extremely informative for consumers or frustrating for those seeking the necessary information to make the most appropriate purchase decision.
Beginning on November 15 I'll be live streaming and posting full game videos of FIFA, Madden, and 2K14 along with informing on additional areas of the games that were neglected pre-release. That may be too late for those who pick up them up along with their PS4 but will carry greater importance for those waiting on the Xbox One. Unfortunately whether the One versions perform worse than the PS4 versions is something that may remain unclear until later.