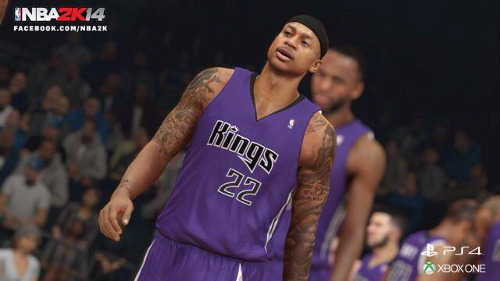 NBA 2K14 for the PlayStation 4 is reaching stores this week and retailers have the go ahead to sell copies immediately. That means additional details on the game thanks to the back of the box feature descriptions. That we're getting actual news on the game from the back of the box a week before the new console releases is fairly mind-boggling but is indicative of just how down to the wire information will be arriving on all the sports titles for launch. 
The Park, which was teased at a recent press event, will be a "massively-multiplayer playground mode where up to 100 MyPlayers in a single Park can play street ball, socialize, watch games in progress, and more". While the game supports up to 10 players online, allowing for all on the court to be user-controlled, it remains unclear if TeamUp or Crew mode will be included in the product or if the 10 players refers only to playing in The Park.
On to the PS4 exclusive content discovered this week, as expected it won't be anything for Xbox One consumers to lose sleep over. "Black ice jewelry and PlayStation gear in the VC store, and a PlayStation court in The Park" will be included.