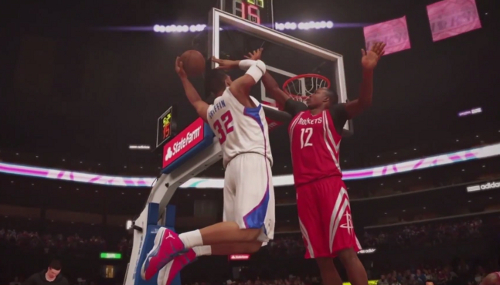 NBA 2K14 on the PS4 and Xbox One introduces MyGM mode – which appears to adopt many of the same ideas featured in Madden's Connected Franchise – replacing Association which had gone without much of anything in the way of improvements in recent years. 2K Sports today confirmed that there is no online component to MyGM while PS4 trophies reveal that Online Leagues are back. 
While the assumption turned out to be true, that MyGM is a single player offline mode, 2K is compensating for that by bringing back the standard online leagues that were featured in the series through NBA 2K11 and which fans would have preferred to have in recent years. The PS4 trophy list includes one for winning the championship in an online league.
Unfortunately bringing in the online component to Association mode never properly worked and with MyGM being that much more complicated online involvement was unlikely to happen this year. Online Association has been for all intents and purposes broken since being introduced in 2K12. Even on current-gen 2K14 it seems few if anyone can advance past the first season making it a pointless venture to undertake yet 2K has shown no concern over it.
Other new trophies relate to the MyGM mode, the story element in MyCareer, new features of MyTeam, and the "Points of Emphasis" coaching adjustment system.