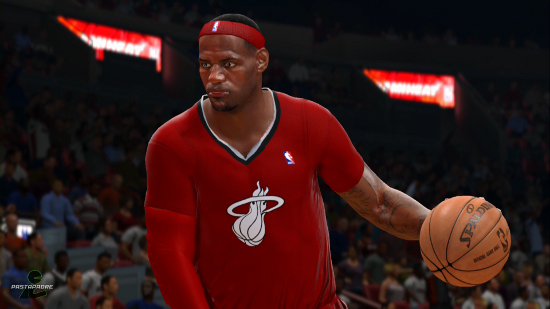 When EA Sports cancelled NBA Elite 11 and NBA Live 13 the company attempted to capitalize as best they could on the failures by framing the decisions as if they had done consumers a favor. That of course was not the primary consideration behind the moves to cancel them – however in the end it has to be recognized that no one felt ripped off over the four years since their last sim NBA game released.
That was a big reason that many remained open to the return of NBA Live along with the new generation of hardware. NBA Live 14 should not have released then when evaluating the company's previous declarations. Admirable vision was not realized and seemingly achievable goals were not met. Now the series faces an even more uncertain future. 
HITS
Presentation
One area that did show immense potential is the presentation which utilizes the ESPN license to a great degree. From the music, to the commentary team and Jalen Rose, to the on-screen graphics and halftime show, it all translates extremely well as a fan of the NBA.
The commentary, which began being built many years ago for NBA Elite 11 with Mike Breen and Jeff Van Gundy, is too often nondescript and has stretches of dead air. It does capitalize however on big plays in an emotional fashion that is recognized from their real broadcasts. There are no "first year" excuses here. It's just underwhelming. Everything else presentation wise is really well done but of course has room for immense improvement.
Constantly Updated
While it remains to be seen how well EA supports Live 14 post release with gameplay patches and new features – something they've now promised will be extensively improved and added to – the game does a good job of connecting to the latest in the NBA.
While the competition currently sits with a roster that is coming up on two months outdated, NBA Live 14 constantly updates player ratings, tendencies, and equipment. The Christmas jerseys were even included in the base product. New "BIG Moments" are added frequently and Live Season can be played day-to-day.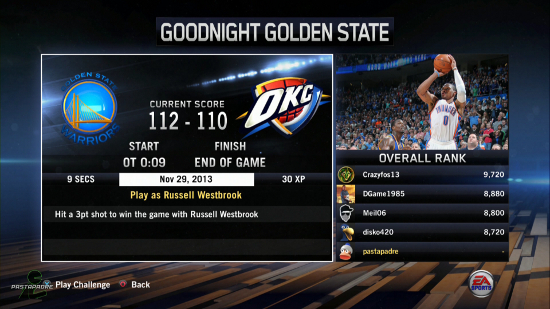 MISSES
No Tutorial or Practice Gym
What might be the most disastrous decision regarding NBA Live 14 – and that's saying something considering there is a long line of them – is the absence of any sort of tutorial or even a practice gym. Half the marketing for this game was a single player in a practice gym and it wasn't included in the product?
NBA Live was gone for four years. This isn't the typical sports game where maybe it could be argued they could get away without having them because of release every year – but even then they all have their own forms of tutorials and ways to practice and improve skills.
There is no way to learn how to play except jumping into games and experiencing failure. That punishment is not the way to bring in new consumers who will stick around. While the competition often is cited for inaccessibility to newcomers, NBA Live 14 is no more accessible than that game.
Gameplay
Without compelling gameplay nothing else much matters. NBA Live 14's is riddled with issues and immense deficiencies that will make it undesirable to play and therefore nullify any of the positives found elsewhere in the product.
The much touted dribbling system does not feel like any sort of advancement and not being able to practice moves assures that very few will experience what EA claims it can do. There is absolutely no mid-range game not much reason to attempt outside shooting with default settings. At least offline there is an option to switch to ratings determining shot success instead of timing being factored in. Not having that option online completely wrecks the games there. Unlike NBA Live 10 there is very little off-ball movement without calling plays. And before someone says to adjust sliders to address some issues…there are no sliders.
The biggest issue might be how delayed everything is. By the time a button is pressed, and the animation plays out, opportunities are gone. An open man under the basket? He won't be by the time the pass arrives. An open shot? It won't be by the time he rises for it.
Online Play
Once you get past the fact that there's barely anyone that owns this game so potential opponents are few, the online games can be somewhat fun just in having a human opponent rather than the dull CPU. However the delay to everything is only more pronounced online and there is zero chance to having any success shooting threes or even mid-range shots.
Shot charts at the end of games are all that need to be seen to understand what is happening. Timing shots properly is difficult if not impossible and even when the white flash shows the timing was right wide open shots are missed in frustrating fashion. There is no mid-range game because there is no space for shooters to go up with a clear shot when the delay in passing and shooting allows defenders to be right on them contesting the shots or often blocking them.
There is no Online Dynasty, Leagues, or Team Play. The only things EA got right were introducing a seven game series against friends that keeps track of the record and basic Online Seasons. Even then going into the seven game series section in the menu freezes the game so they need to be set up individually and that area avoided.
Visuals
There really is no questioning that the graphics don't meet next-gen expectations. Even EA admitted they recognize this. Player faces are often horrendous (just look at LeBron above), some player models are awkward, and animations are outdated and stiff. Seats are left empty along the sidelines. The reflections on the court though are excellent.
All Modes
Career and Dynasty are about as basic and vanilla as they come. Ultimate Team (which could have been intriguing) lacks an Auction House, ability to play friends, complete collections, or set multiple lineups. The BIG Moments, which introduce new scenarios based on events in the NBA, are tedious and unnatural to play and have bugs like the crowd noise disappearing completely for long stretches. Online lacks modes that could have capitalized on the competition's failure to deliver in that area as well.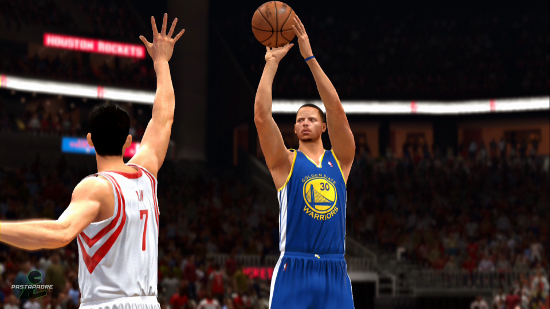 The approach to rebooting the NBA Live series required the first year would reestablish some credibility with consumers. It was not able to accomplish even that much. The product has some good ideas behind it but lacks in execution. Now, if there is an NBA Live 15, EA will essentially be starting all over yet again.