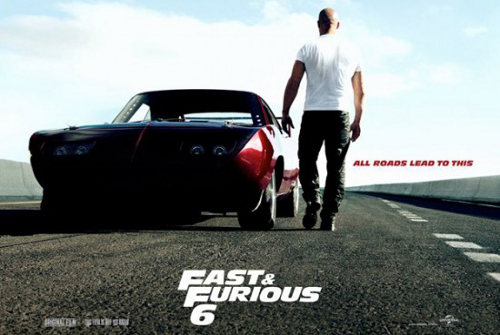 Fast & Furious 6
Vin Diesel, Paul Walker, Dwayne Johnson and Michelle Rodriguez lead a cast of returning all-stars as the global blockbuster franchise built on speed delivers the biggest adrenaline rush yet. Hobbs (Johnson) has been tracking an organization of lethally skilled drivers, whose mastermind (Luke Evans) is aided by the love Dom (Diesel) thought was dead, Letty (Rodriguez). The only way to stop the criminal mercenaries from stealing a top secret weapon is to outmatch them at street level, so Hobbs asks for the help of Dom and his elite team. Payment for the ultimate chase? Full pardons for all of them and a chance to make their families whole again.

Despicable Me 2
Gru, his adorable girls, and the mischievous Minions are back with a cast of unforgettable new characters in the blockbuster sequel to the worldwide phenomenon. Just as Gru has given up being super-bad to be a super-dad, the Anti-Villain League recruits him to track down a new criminal mastermind and save the world. Partnered with secret agent Lucy Wilde, Gru, along with the wildly unpredictable Minions, must figure out how to keep his cover while also keeping up with his duties as a father.

Teen Wolf: Season 3, Part 1
Four months after the events that nearly ended Jackson's life and resurrected Peter Hale's, teen wolf Scott McCall and his friends begin their junior year of high school unaware that a new threat has arrived in Beacon Hills: A pack of Alpha werewolves intent on bringing Derek into their fold, while destroying his young pack.

Doctor Who 50th Anniversary Special: The Day of the Doctor
The Doctors embark on their greatest adventure in this 50th Anniversary Special. In 2013, something terrible is awakening in London's National Gallery; in 1562, a murderous plot is afoot in Elizabethan England; and somewhere in space, an ancient battle reaches its devastating conclusion. All of reality is at stake as the Doctor's own dangerous past comes back to haunt him.