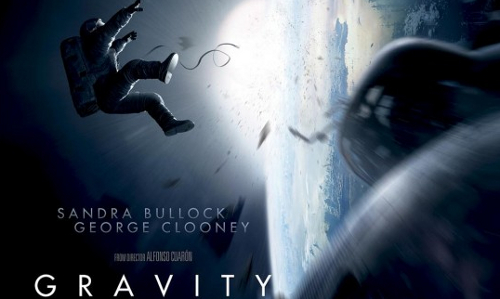 Gravity
GRAVITY, directed by Oscar nominee Alfonso Cuaron, stars Oscar winners Sandra Bullock and George Clooney in a heart-pounding thriller that pulls you into the infinite and unforgiving realm of deep space. Bullock plays Dr. Ryan Stone, a brilliant medical engineer on her first shuttle mission, with veteran astronaut Matt Kowalsky (Clooney). But on a seemingly routine spacewalk, disaster strikes. The shuttle is destroyed, leaving Stone and Kowalsky completely alone.

Thor: The Dark World
From the Studio that brought you the #1 Super Hero movie of all time, Marvel's The Avengers, comes another must-own, epic blockbuster starring Chris Hemsworth as The Mighty Thor. Worlds collide when a powerful ancient enemy threatens to plunge the cosmos into eternal darkness. Now, reunited with Jane Foster (Natalie Portman), and forced to forge an alliance with his treacherous brother Loki (Tom Hiddleston), Thor embarks on a perilous personal quest to save both Earth and Asgard from destruction. Experience this action-packed adventure featuring exclusive bonus content, including a Gag Reel, deleted scenes and a new Marvel short film available only on Blu-ray.

Frozen (Early Instant Video Exclusive)
In "Frozen," fearless optimist Anna teams up with rugged mountain man Kristoff and his loyal reindeer Sven in an epic journey.

Nebraska
From Academy Award winner Alexander Payne, the director of Sideways and The Descendants, comes the film that critics are calling "An American Masterpiece." When a father (Bruce Dern) and his adult son (Will Forte) embark on a journey to claim a million-dollar prize, what begins as a fool's errand becomes a search for the road to redemption. Discover why Nebraska is "one of those movies I'll watch for the rest of my life."

The Middle: Season Four
In Season Four of The Middle, the Hecks once again bring the laughs from the heartland. Frankie (Emmyr winner Patricia Heaton) continues to struggle selling cars at the only dealer left in town, but an unexpected turn of events may force her to reevaluate her career path. Meanwhile, Mike (Neil Flynn) has made it his mission to ensure sloth-like son Axl gets a football scholarship so he can get into college next year. Sue finds herself not only navigating high school, but also the Indiana roads by finally (she hopes!) getting her driver`s license. With all the crazy happenings, it`s no wonder youngest son Brick keeps his head down in a book – or whispering to himself as usual! No matter what happens, the family brings the laughs in the ever-unique and quirky comedy.