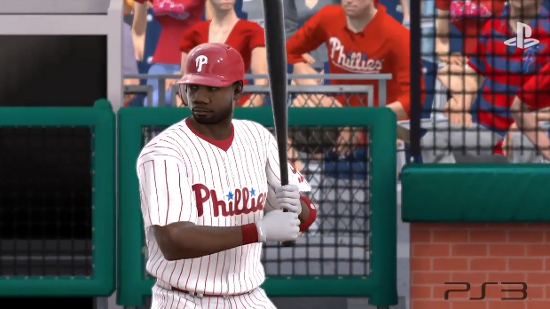 Though they may not immediately stand out as the most exciting features of MLB 14: The Show, Quick Counts and Player Lock will provide an opportunity to complete games much faster than playing the traditional way. Baseball has always been hamstrung by the length of games and time investment required – especially for those who want to complete full seasons in Franchise mode. A new video today goes further into detail on the two new features. 
Quick Counts was the first of the two announced and the concern with that is the limiting of the strategy and mind games that are such a huge part of baseball. Being deeper into counts will take away some of the setting up of batters or ability to jump on a first pitch. At the same time it will really be of benefit to players who have trouble with patience at the plate and in turn wear down pitchers at a more realistic rate.
Player Lock may not appeal to everyone but there could be reason to lock onto single players and advance in that manner – especially on teams that aren't stacked with talent.
Please enable Javascript to watch this video
One of the most common pieces of feedback from our fans is that they'd like to play complete games faster. That's why we're excited to bring two new gameplay options into MLB 14 that allow for you to experience The Show without the time commitment of years' past. Introducing Quick Counts and Player Lock.
Quick Counts (PS3/Vita/PS4)
Users will now be able to play a full nine-inning game in less than 30 minutes, half the time it takes in previous iterations of The Show. Despite the shortened game durations, realistic stats will not be compromised.
Player Lock (PS3/Vita/PS4)
The new Player Lock feature (a.k.a RTTS anywhere) gives users the ability to lock-on to any single player and enter games using the Road to the Show gameplay mechanic, allowing for faster games and more focused on-field action.
Few more details not covered in the video:
♦Quick Counts and Player Lock are game options; they aren't mandatory.
♦Quick Counts and Player Lock are available in all game modes except Road To The Show.
♦Player lock will allow you to play a full game in as little as 10 minutes.
♦With Quick Counts on, you will cut your game completion times in half if used in conjunction with the Fast Play presentation setting. Games can now be completed in as little as 30 minutes.
♦Realistic stats in Quick Counts have not been compromised. However, you may see a slight increase in strike outs and walks.
♦To customize Player Lock experience, visit the Options page and access RTTS Options.
♦Player Lock fielding uses fielder-perspective controls, so all bases are mapped opposite of non-Player Lock games (i.e. Square = First, X = Second, Circle = Third, Triangle = Home)