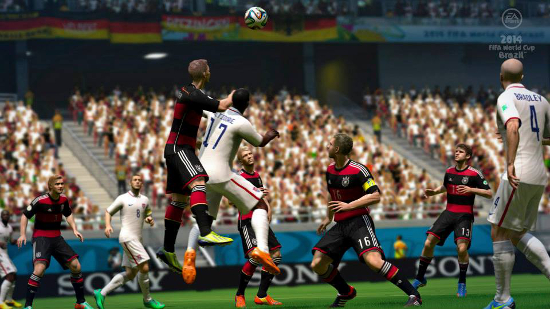 EA Sports is facing multiple challenges by not releasing 2014 FIFA World Cup on the Xbox One and PS4 and one of them is making a convincing argument that the incoming gameplay improvements are substantial on the Xbox 360 and PS3. After selling next-gen FIFA 14 and touting enhancements that were only possible due to the new hardware now the company must backtrack somewhat in order to promote their latest effort.
Of course for those who haven't made the jump to the new generation the improvements in gameplay, presentation, and atmosphere could prove worthwhile. EA has released descriptions of five prominent areas of advancement relating specifically to gameplay. 
World Class Control
EA SPORTS 2014 FIFA World Cup features an all-new control system which features two new mechanics: Response Dribbling and Pinpoint Passing.
Response Dribbling allows players on the pitch to turn quickly at every possible angle and still maintain control the ball. Now, when you initiate the left trigger to slow a player's speed, you will notice greater success when trying to beat oncoming opponents. Additionally, with new flicks, dribbles, and a Brazilian-inspired skill move, it will be even more satisfying to get by just about any defender
Pinpoint Passing introduces new animations and improvements that result in a crisper and more responsive pass. From outside of the foot curling cross to more realistic clearances, Pinpoint Passing allows for a more precise experience.
Set Piece Tactics
There are multiple factors to a successful set-piece. Players are constantly moving, trying to find an open space to provide options. Now you can direct teammates to make runs to the near or far post, the edge of the penalty area, or even have them crowd the keeper to help create a screen, all using the D-pad. On the other side, defenders will react accordingly to help guard the post and potential open spaces, while goalkeepers will direct teammates to cover unmarked players.
Over-the-Back Headers
A defender with great heading ability is a highly sought after commodity. With new over-the-back headers, defenders who are able to will leap higher than the player they are marking can clear the ball in the opposite direction. At the same time, attackers can do the same in set-piece opportunities. If an attacker is able to leap higher than a defender and get his head on the ball, they will improve their chances at scoring a goal. Winning the air battle will be even more important than ever before.
New Penalty Kicks
Part of what makes the FIFA World Cup so incredible are the matches decided on penalties. In EA SPORTS 2014 FIFA World Cup, new mechanics from shot tuning to new save animations brings the intensity of the moment to life. Penalties during a match will now feature players lined-up along the edge of the box ready to react if the shot is missed. Keepers can also use Goalkeeper Antics to distract the kick-taker. These include the infamous wobbly-knees to the more comical matador and shoot-it-there motions Keepers use to throw off a shooter.
adidas Ball Physics
EA SPORTS is proud to partner with adidas to deliver the most realistic ball physics system seen in a football title. By using data collected by adidas' Innovation Lab in Herzogenaurach, Germany, the Brazuca and other adidas balls included in the game react as they would in the real world. This includes true-to-life flight, grass friction and moisture that can alter the way a player moves with the ball.