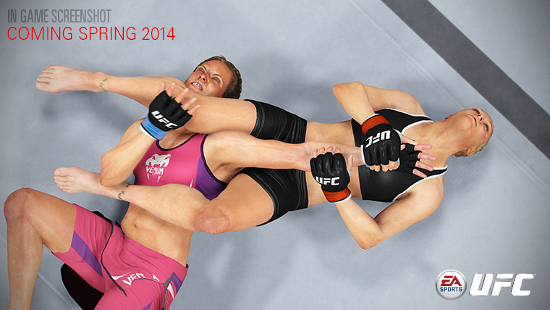 At last June's E3 eight core gameplay features were revealed by EA Sports for their first UFC title. Quite a lot of time passed – understandable given there was about a year until expected release at that point – before the company followed up with some more significant news on the game. A trailer was recently released going over many of those same concepts and now more detailed descriptions of those areas have been provided. 
Precision Movement
The first step to putting you in control of realistic, world-class fighters is creating believable movement.
Partnering with the EA SPORTS FIFA team and leveraging all new EA SPORTS IGNITE technology, EA SPORTS UFC has created a locomotion system that eliminates sliding and skating around the canvas and instead emulates the complex footwork of a real fighter.
"This new locomotion system creates the sense that when someone throws an overhand right, they're really planting their foot, transferring the power up through their leg, into their arm, and ultimately into their opponent's face," explained Creative Director Brian Hayes. "It sounds like a really simple thing, but it wasn't something we had really done before."
Not only will a fighter's movement create a more believable athletic performance, but the design team also took special care to give the user as much control over that movement as possible, drawing a line between regular locomotion and fight-specific maneuvering.
"We could have just mo-capped a guy moving around like Frankie Edgar, bobbing, weaving, slipping jabs – and all you had to do was move around the left stick to make that happen. But you probably wouldn't feel like you had that much control and he'd be doing all that stuff on this own," he continued. "We had to put the onus to be defensive on the user. If you want to slip, move, and bob your head like Frankie Edgar you won't be able to do that just using the left stick. You're going to have to flick the left stick to dodge left or right or backwards, or use the left trigger and the left stick, to slip punches while just standing in place."
Full-Body Deformation
One of the toughest features to realize, but also one that best represents the realism that next-gen tech offers, Full-Body deformation will be the exclamation point on every strike and submission battle. Full-Body Deformation allows a fighter's flesh to react as it would in reality, displacing or rippling when met with the impact of a blow or the pressure of an opponent's submission attempt.
"MMA is unique in the sense that we only have two fighters facing each other at a given time as opposed to 10 basketball players on a court, or 22 soccer players on a pitch," pointed out Hayes. "So we wanted to take the opportunity and ask, what are some things we can do with two human characters that aren't wearing jerseys, pads, or helmets? We wanted something to show that we were really pushing the boundaries with this new technology."
Real Damage
Forget always looking up at the HUD. Damage in EA SPORTS UFC will look better than ever and give gamers the perfect ammunition for trash-talking their opponents during a fight.
"If someone's laying into your legs, you'll be able to see the really painful looking contusions on your fighter's legs. Same with the body – you'll see a lot of bruising there. And of course on the face we have a variety of cuts and swelling. It's all there and it looks better than it ever has before," said Hayes. "The blood is also physics-based, so if a fighter gets cut on the bottom of some ground and pound, you don't just see random blood appear on the ground – it actually flies out of a fighter's cut, lands on the mat and you can watch it the whole way. "
No matter how much damage a fighter absorbs, gamers can rest assured they'll always be able to go the distance, so long as they manage to stay conscious.
"We decided not to have any doctor stoppages in EA SPORTS UFC. People will have different opinions on this, but we ultimately didn't want to rob the user of the chance to make it to the end of a fight or score a wicked comeback because the AI of an Octagon-side physician decided they couldn't continue," he added. "You'll recoup right away after your fight, so if you're playing in an online tournament, you won't carry that damage over to your next bout."
Exertion
A staple of any great fighting game, exertion will be a lot more intuitive in EA SPORTS UFC and like Real Damage, provide you with the visual cues to know your fighter is expending a lot of energy without having to glance up at the HUD.
"Aside from being a lot more intuitive, we've also made it specific to fighters," added Hayes. "At the end of a five-round fight that had an incredible pace, you'll still see veins bulging out on Frankie Edgar, but you won't see him sucking wind. Hector Lombard on the other hand might have to take some time off here and there otherwise he'll be pretty tired by the end."