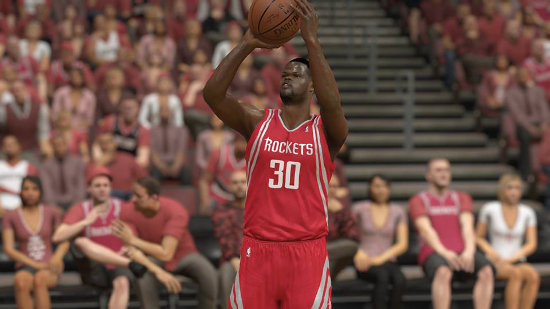 Arguably the most fascinating story of the NBA Playoffs to this point is the emergence of Troy Daniels. Signed by the Houston Rockets in February, Daniels spent most of the time since in the D-League. He was called back up to the Rockets on April 9th and played in three late season games. Daniels was named to the playoff roster for the team, was the hero in winning game three of the series against Portland, and was a huge contributor in game four.
Despite having been on the Rockets earlier in the season and for the more recent stretch Daniels had not been added to the NBA 2K14 roster. Last year 2K faced a similarly embarrassing situation when Kent Bazemore scored a would-be game winner in the playoffs. He wasn't on the Warriors roster despite having appeared in 61 regular season games.
Today a roster update was released to address the oversight by adding Daniels. He comes in rated 67 overall with B+ outside shooting.