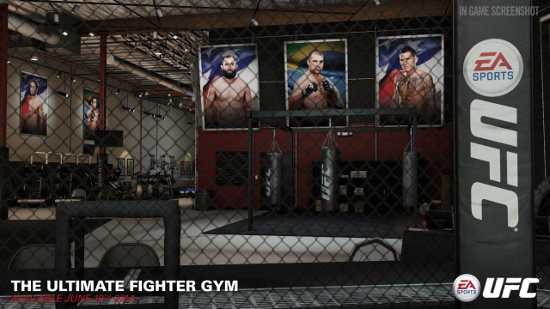 EA Sports today released details on the Career and Online modes for the upcoming launch of the UFC franchise on June 17. For the first time ever in a UFC video game, The Ultimate Fighter is featured, with that being how a career begins. In the past including TUF hasn't been possible due to an extreme royalty fee that would have been required. Online will include an "Online Seasons" format and rivalry system but unfortunately not the Fight Cards feature that was brilliantly introduced in EA MMA. 
The Ultimate Fighter
Your career starts here. Winning an elimination match will get you drafted to a TUF team. We've matched up 13 pairs of real-life rivals to be your coaches, including Johny Hendricks and Carlos Condit, Benson Henderson and Nate Diaz, Chris Weidman and Lyoto Machida, Jon Jones and Alexander Gustafsson, and many more.
The Ultimate Fighter tournament represents a great chance to hone your skills and adapt to fighting different styles of opponents. Before each TUF bout, your coach will help give you the edge by providing you with a scouting report on your opponent and some last minute advice about the matchup.
Win your way through the tournament and earn yourself a coveted UFC contract and the title of The Ultimate Fighter! This will also get you enough fans to net your first official sponsor – the UFC – whose official gear you'll then be able to deck yourself out in.
Professional UFC Career
Now that you're officially on the UFC roster, you'll be fighting on a series of PPV Under Cards with the goal of moving up to the Main Cards and eventually winning a title.
Your long-term EA SPORTS UFC career is based on two rating systems: Popularity and Longevity. Put on exciting fights and score big finishes to earn fans and watch you popularity rise. Not only will a high popularity rating unlock more sponsors whose gear you can then wear in-game as well as exclusive fighter messages, but it'll also encourage the UFC's biggest stars to visit your camp with training tips before important fights.
Fighting recklessly and absorbing too much damage will make your career longevity meter will drop quickly. Like any fighter, you can only get your ticket punched so many times, and when your longevity meter runs out, your fighter's career is over.
As you train, fight and proceed through your career, you'll gain:
XP Points: Level up your fighter through 25 levels, unlocking new abilities in three categories – Ground, Standup and Physical – as you go. As you 'Level Up', you'll be given up to three different 'Game Plans' with up to five skills each. You can switch between these three pre-sets at any time, based on who your next opponent is and what fighting style they have.
Evolution Points: Can be used towards upgrading your fighter's Attributes and Moves, allowing you to do things like increase the power in your right hand or lean how to do the Showtime Kick.
In addition to recognizable stars, over 200 CPU generated fighters will be populating the UFC roster with you. All fights that you're not in are simulated and all CPU fighters are constantly leveling up, purchasing ratings and improving right along with you. Beat a fighter early in your career and face him again later, and you can expect to be going up against an improved more experienced opponent gunning for the same title as you.
Keep winning fights, building your experience and moving up the UFC's power rankings to earn a title shot. Once you get that belt around your waist, keep defending it and your poster will be hanging alongside Anderson Silva's in the TUF gym before you know it!
Please enable Javascript to watch this video
Online Championships – How good are you really? It's time to prove it. Following the format of the fan-favorite EA SPORTS Seasons game mode, Online Championship will let you prove where you stand against the rest of the world. Win enough to climb the ranks of the best players and fight for the belts in the highest divisions.
Online Rivalries – Create a 1-on-1 online rivalry with a friend and answer the question, who is really number one? Each rivalry tracks head-to-head stats for in depth analysis and multiple rivalries are supported simultaneously.
FighterNet – Your HUB to track all of your online competition. Track and compare your stats against friends and rivals, share fight highlights, and maybe even have your highlight featured in the Highlights of the Night. Plus, get access to some of the latest UFC content as and when available with the UFC Spotlight feature.