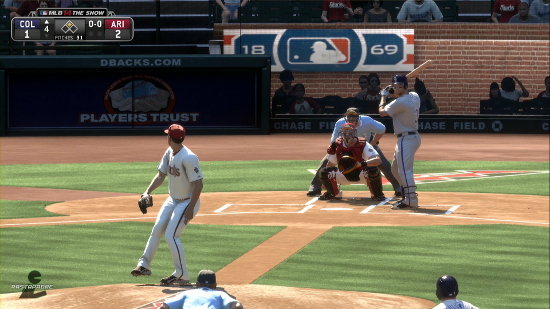 The release of the PlayStation 4 and the death of competition was the shot in the arm MLB: The Show needed to achieve sales growth following three straight years stagnation and declines. Though Sony has not released any actual numbers they've cited a 40% increase over the highest selling year for the series when looking at the first week on the market. 
That comparison may be to MLB 10 which stands as the highest selling in the franchise, or one since where sales may have been more heavily front-loaded but had weaker legs. MLB 14 did not even finish in the top 10 of sales for April showing just how strong the PS4 version has been compared to the losses incurred on primarily the PS3 but too when combined with Vita.
It should come as no surprise that MLB 14: The Show would become the fastest selling in the series. Not only is there the extra release to add in, but it is the first time where there has been no competition with the cancellation of MLB 2K. The idea of that series being a "competitor" to The Show may elicit laughter but it did syphon away a couple hundred thousand sales each year. Most of those were from Xbox 360 consumers who had no ability to buy The Show, and going into the new generation they may have considered that in buying a PS4.
In addition there have been select few new releases to celebrate on the PS4, or Xbox One for that matter, in recent months. The Show stood out in a way that attracted some non-traditional buyers who could see the enhanced graphics as a showcase for their new hardware and were caught up in a more concentrated marketing campaign than those produced in the past.
Anyone who cared about baseball games knew last year that the PS4 would be the console to get. So now baseball fans are more heavily concentrated and this time on the higher selling system. MLB sells almost nothing outside of North America, so the PS4 being ahead in the region won last-gen by the 360 is opening up even more to the series.
MLB is by far the lowest selling of all the major sports games, and it looked for a while that there may not be great potential for it to expand, but this year at least The Show has done so and that is a good sign for the future that momentum could be building upward.