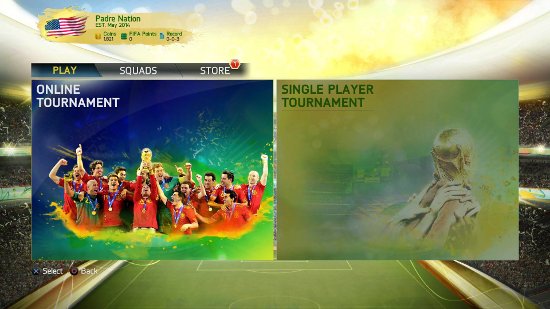 The free content for FIFA 14 on all platforms arrived late last week and with it some hope that it could be a good compliment, and maybe even a substitute, for the 2014 FIFA World Cup game that released only on 360 and PS3. Obviously the addition to FIFA 14 was never going to provide the same depth as that standalone game but it was also offering something completely different. A free entry point into a unique Ultimate Team mode where money could be spent but didn't necessarily need to be.  
The new Ultimate Team mode has a compelling nature about it. Conceptually it all works well – and the exceptional online play makes it more than just a mode that could be fun in theory. The Online Tournament structure is great with four random participants fighting for the points to get out of the group stage and into the actual tournament. Offline Tournaments are available as well. The biggest omission here is that there is no way to play a friend with your team.
When forming the team at the start a nation to support is chosen and that provides the first kit. Everyone will begin with a mediocre team but at least one really good player. Beyond that each World Cup pack is $1 or they can be obtained by playing enough and earning coins in the process to spend on them. Teams improve based on chemistry of the players so the more working alongside those from the same country and/or clubs the better.
Unfortunately it all falls apart when the games start to be played. It only took a few moments to realize that something was very off about the gameplay. Anyone who has played FIFA 14 on Xbox One or PS4 will notice that. Gameplay is faster and more offense oriented, but what is more startling is the feel that you're back playing the last-gen FIFA game. AI controlled players are dumber and ultra-aggressive play by users is rewarded. Literally the most effective defensive tactic is taking a player and running him into the guy with the ball. Fouls are few and far between so there is no risk in employing that tactic.
I wondered at first if maybe I was just crazy. That the gameplay felt completely different could be my imagination or based on the ratings of the players on the pitch. But after noting the observations several people started to acknowledge it on their own and confirm my initial suspicions. Has the gameplay of 360/PS3 FIFA (whether FIFA 14 or World Cup) somehow just been ported to this new mode even on the Xbox One and PS4? If not it sure feels that way.
For those who didn't make the jump to the new systems the mode will be fine and does add considerable value. However anyone who has spent a decent amount of time with the XB1/PS4 version will be thrown for a loop by the dramatic difference in gameplay and that may be enough to turn them off from it.
Being able to start fresh, and coinciding with the excitement of the World Cup, I anticipated investing significant time in the mode. It had been hard to go back to last-gen to play the World Cup game after having thoroughly enjoyed the meaningful enhancements that came with the new systems. Even some thought had been given to spending some money and buying packs. But that won't be happening now. After a few games it was just too frustrating to continue despite the desire to play through what is a well designed mode with a terrific online play experience.