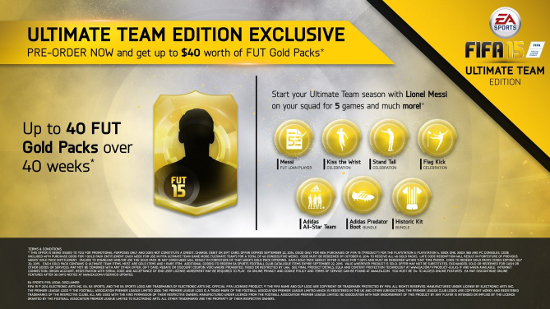 Early retail postings suggested Madden NFL 15, NHL 15, and FIFA 15 would have special editions. That has turned out to be the "Ultimate Edition" of each which offers up significant Ultimate Team content for $10 more. Now some details on those have surfaced. 
Madden NFL 15
30 Ultimate Team Pro Packs distributed over 10 weeks, and exclusive Draft Class Pack that includes 10 of the first round draft picks from the 2014 NFL Draft.
FIFA 15
40 Gold Packs distributed over 40 weeks + misc items like celebrations.
NHL 15
Unspecified at this point but claimed to be $40 in Ultimate Team content.
Having the packs spread out over several months is a tactic employed to keep those gamers playing, and feeding into the digital revenue stream, for longer than they may have otherwise. EA has utilized the strategy with the pre-order bonuses of Ultimate Team packs in recent years as well. FIFA's 40 weeks in this case is especially extreme and will deliver pressure on those gamers to play until FIFA 16 is just around the corner. However the really dedicated FUT fans may naturally play that long anyway.
For those who anticipate playing Ultimate Team for an extended period of time, the special editions would appear to offer plenty of value worthy of spending the extra $10 at release. Certainly those are the consumers EA is targeting with these packages. The hope might also be there to draw in some new Ultimate Team players since the $10 difference is relatively small for a special edition of the game. Most though who care little or not at all about UT can pass on it without concern of missing out on something worthwhile.