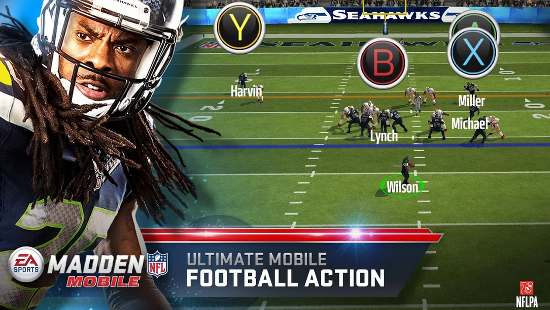 Dropping the year from the title, Madden NFL Mobile is the latest game out for iOS and Android devices from EA. After transitioning to the free-to-play model with Madden 25 this one continues the Ultimate Team structure that proved to be fairly successful despite a swarm of complaints from those who preferred the more traditional game of the past (paying up front with real teams and the usual modes) and disliked being badgered constantly for money in the new one. Some improvements have been made to reduce both the pressure felt on spending money for basic needs and the blocking of your ability to play completely without paying for "energy". Madden NFL Mobile can be downloaded for free from iTunes for iOS and Google Play for Android.
BUILD YOUR ULTIMATE TEAM
Choose your favorite NFL franchise and make it your ultimate MADDEN NFL team. Customize your roster with real NFL players you collect, manage, and upgrade. Make savvy selections and play out your football fantasy.
CREATE RIVALRIES
MADDEN NFL knows you're a player first, so test your team on the field. Tap rivals all over the map, and challenge friends, too. Go head-to-head in quick offensive shootouts – or go big in a full 16-game season and take your team to the Super Bowl. Run your offense and defense with an improved analog stick control system and gameplay smooth as a perfect spiral.
CONNECT TO THE REAL NFL
Live updates from real events and players put all the intensity of the NFL season right in your hands. Rush into daily challenges and earn awesome rewards – all season long.