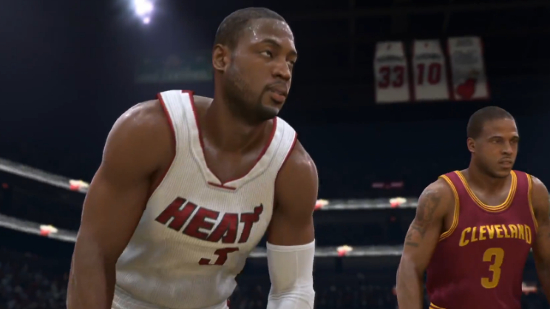 With just five weeks until release EA Sports appears finally ready to begin promoting NBA Live 15 with a debut trailer focusing on the visuals and the first feature details. Improvements in visuals are just about the only thing the company discussed this summer and until now they didn't show much to try and back it up. Even still this first substantial news on features is only accompanied by 39 seconds worth of trailer. With zero credibility and having let down the few who were actually willing to spend $60 and give Live 14 a shot, EA will have to show a lot more in the coming weeks to be at all convincing that this is a product to consider.
Please enable Javascript to watch this video
Lights, Camera, Action
We're doubling down on visuals with an all-new scanning and lightning technique for the most photo-realistic player models in franchise history. Add into the mix player specific body types and contextual emotional responses and you will truly feel like you're in the action.
Real-Time Physics in the Paint
Feel the impact of real-time physics on every drive, post move and collision in the most trafficked area on the court. 100+ new animations make it possible for something unpredictable and amazing to happen every play. Scoring is amped up with 3x the variety of dunks, layups and signature shots as you impose your will on your opponent with physicality you can feel.
Ultra Responsive Controls
Passing, shooting and dribbling will feel snappier the moment you pick up the sticks. Freestyle Passing takes your assist game to the next level with no looks, behind the backs, and more. An all-new shot feedback system teaches you how to successfully get buckets, measuring three key factors in real-time to determine shot quality. Enhancements to bounceTek allow you to make cuts and change momentum on a dime, giving you the ability to create space and pull off devastating skilled dribble moves on the run.
Smarter AI and Transition Game
New AI logic drives all 10 players to move with intent and purpose while displaying greater off-ball awareness, adjusting as every play develops. Add in a smooth transition game as well as real-world offensive sets and defensive schemes and you've got 48 minutes and 94 feet of end-to-end, dynamic gameplay.
Defense is Fun
New defensive systems make it easier to contain your man by using just the left stick. Contextual physicality, bumps and jostles, in addition to a new shot blocking system, delivers simplicity in controls helping you make that big defensive stop when your team needs it most.
Learn Live
NBA All-Star and Former ROTY Damian Lillard is your personal coach and mentor on the journey to becoming an expert NBA LIVE 15 player. Learn how to dominate LIVE like a boss with drills and tutorials wrapped in stories about Lillard's path to the NBA.
Live Season
BIG Moments just got bigger. New Hot Spot Challenges allow you to replicate game-changing moments within an hour of them happening in the real NBA. The closer you get, the more bonus points you earn. Plus, all-new featured monthly events will offer fresh challenges as they actually happen, in real-time.
Live Ultimate Team
The perfect combination of NBA LIVE 15 and fantasy basketball. Build your dream team of the brightest modern NBA stars and all-time legends. Compete online or take part in Fantasy Challenges to earn coins and purchase packs of players, uniforms, and more. A new auction house adds even more opportunities to assemble the fantasy team you've always wanted.