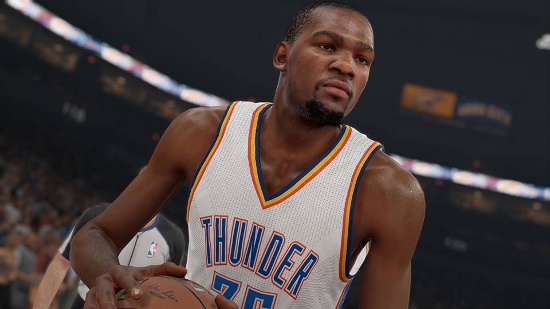 It took over three weeks to do so but 2K Sports has finally finished revealing all the overall player ratings for NBA 2K15. Only one of the four players to be rated 90+ wasn't confirmed until now and as expected it's Chris Paul who comes in at 91. He joins LeBron James (98), Kevin Durant (95), and Tim Duncan (90) in that elite group.
Six players follow at 89 overall including Kobe Bryant, Carmelo Anthony and Kevin Love. Continue on to check out all the overall ratings in the base roster of NBA 2K15! 
98 Overall
LeBron James SF CLE
95 Overall
Kevin Durant SF OKC
91 Overall
Chris Paul PG LAC
90 Overall
Tim Duncan PF SA
89 Overall
Carmelo Anthony SF NY
Kobe Bryant SG LAL
Kevin Love PF CLE
Paul George SF IND
Blake Griffin PF LAC
Stephen Curry PG GS
88 Overall
James Harden SG HOU
Dwight Howard C HOU
Tony Parker PG SA
LaMarcus Aldridge PF POR
Dirk Nowitzki PF DAL
Anthony Davis PF NO
Derrick Rose PG CHI
Russell Westbrook PG OKC
87 Overall
Joakim Noah C CHI
Damian Lillard PG POR
Al Jefferson C CHA
Rajon Rondo PG BOS
86 Overall
Dwyane Wade SG MIA
DeMarcus Cousins C SAC
Kyrie Irving PG CLE
John Wall PG WAS
85 Overall
Kawhi Leonard SF SA
DeMar DeRozan SG TOR
Marc Gasol C MEM
Kyle Lowry PG TOR
Paul Millsap PF ATL
84 Overall
Deron Williams PG BKN
Goran Dragic PG PHX
Chris Bosh C MIA
Serge Ibaka PF OKC
Zach Randolph PF MEM
Lance Stephenson SG CHA
Ty Lawson PG DEN
83 Overall
Manu Ginobili SG SA
Al Horford C ATL
Mike Conley PG MEM
Brook Lopez C BKN
Andre Drummond C DET
82 Overall
Rudy Gay SF SAC
Klay Thompson SG GS
Andre Iguodala SF GS
Pau Gasol PF CHI
Monta Ellis SG DAL
Jrue Holiday PG NO
Kemba Walker PG CHA
Joe Johnson SG BKN
David Lee PF GS
81 Overall
Eric Bledsoe PG PHX
Kenneth Faried PF DEN
Bradley Beal SG WAS
DeAndre Jordan C LAC
Marcin Gortat C WAS
Nikola Pekovic C MIN
Paul Pierce SF WAS
80 Overall
Isaiah Thomas PG PHX
David West PF IND
Taj Gibson PF CHI
Roy Hibbert C IND
Jimmy Butler SG CHI
Greg Monroe PF DET
Michael Carter-Williams PG PHI
Josh Smith SF DET
Nenê PF WAS
Brandon Jennings PG DET
Andrew Bogut C GS
Nikola Vucevic C ORL
Jamal Crawford SG LAC
For all players 79 or lower visit this FB link for the full list.