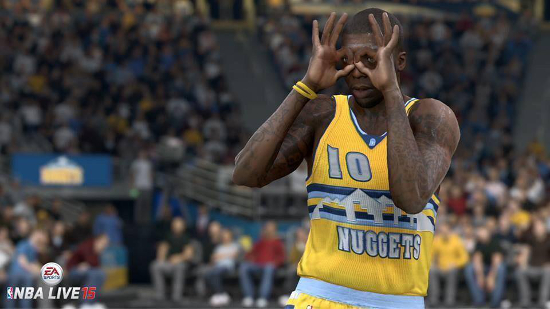 It's certainly no coincidence that while NBA 2K15 struggles with its servers, resulting in inaccessible modes or some that have yet to function properly at all, that EA Sports has come out to proclaim their upcoming game will not experience similar problems. A few mentions from the company related to NBA Live 15 lately have raised eyebrows. It's an area where they can take advantage but the same could have been said last year and they failed to do so. 
In detailing the modes: With EA SPORTS' best-in-class online technology, players will never miss a beat online with friends and the NBA. Server stability is a top priority for us, and NBA LIVE 15 will certainly deliver the goods.

In detailing Synergy Sports features: Our server stability ensures that your game will be seamlessly updated – with adjustments being made to player ratings, tendencies and behavior. We are truly #LIVEallSeason long.
EA does have a strong record of online stability and support and NBA Live is not the "always-online" game that 2K14/2K15 were built to be. In that sense even if there were to be issues they would be limited to online games and would not affect Dynasty or Rising Star modes.
The irony here though as it relates to this series is that Live 14 was awful online. Most games were practically unplayable and even when fighting through the lag and framerate drops no one could make outside shots because of the timing and deficiencies in gameplay. In addition things were promised to be delivered such as new songs for the soundtrack throughout the year and consistent roster updates and they were never fulfilled. For the most part though post-release support was strong with multiple patches and "BIG Moments" updated throughout the season.
EA continues to shield the game to an extent. With only two weeks until release – 10 days until it goes out on EA Access – they've yet to be very convincing about its merits as a $60 product. Does the promise of server stability make a difference because of the problems the competition is having? Or is it just a sign of desperation? Leave your thoughts in the comments.