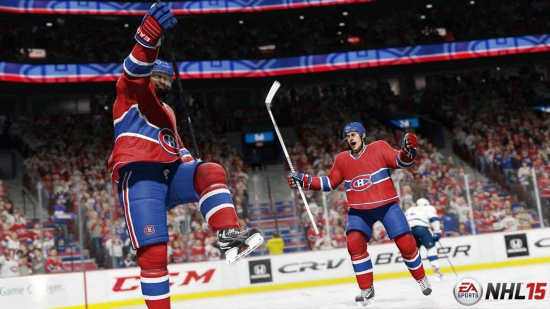 If you're a fan of hyperbole, hold on to your seats, because it's "the greatest day in EA Sports NHL history" as one producer on the franchise exclaimed via Twitter. The update promised back when consumers discovered how many features were missing from NHL 15 – with long-awaited comment came a commitment to extensive post-release support – arrived today and apparently EA is super proud of themselves for it.
The patch delivers basic Online Team Play (only NHL players, lacking the ability to control goalies, and no way to play with friends) and an actual draft for Be a GM mode. It also provides some adjustments to gameplay and fixes to Ultimate Team. 
Online Team Play
Play online with up to ten players, locked to a single position using real-world rosters. These matches will be 5v5 ranked with AI controlled goalies.

Be a GM – Rookie Draft
For the first time in the NHL franchise, you will be put on the clock and feel the pressure like a real NHL GM. As they do at the NHL Entry Draft, you have three minutes to make a draft pick. If the pressure is too much, you can also call timeouts to extend the amount of time you have to make a draft pick or potentially negotiate a trade. You can make trades at any time during the draft. The CPU will also propose trades to each other and the user throughout the course of the draft.

New uniforms have been added
Philadelphia Flyers (NHL) 3rd jersey
Pittsburgh Penguins (NHL) 3rd jersey
Tampa Bay Lightning (NHL) 3rd jersey
Moose Jaw Warriors (WHL) 3rd jersey
Red Deer Rebels (WHL) 3rd jersey
Sarnia Sting (OHL) 3rd jersey
Boisbriand-Blainville Armada (QMJHL) 3rd jersey

GAMEPLAY
Improved penalty logic for goalie interference calls.
Improved goalie decision making when playing the puck outside of the crease.
Pass Assist sliders have been tuned so that they now have the desired effect depending on the user setting.
Fixed issue where strategy overlay would show when User Strategy Adjustment slider is turned up.
Fixed rare issue where players would enter an unusual animation state after being body checked during a poke check.

HOCKEY ULTIMATE TEAM (HUT)
Fixed rare crash issues when sending won auction item to your Collection.
Fixed hang during matchmaking search in Versus.
Users will now be able to change auction prices faster.
Users that lose connection from their opponent are returned to HUT.

BE A PRO
Addressed shootout coach feedback overlay issue.
NHL 15 released last month lacking many expected modes and features all the while still carrying with it the standard $60 price. Though EA held back the information as long as they could – consumers discovering discrepancies and speculation it led to forced the company's hand – reviewers too took notice as the game came in rated only a 60 on Metacritic. Sales were also impacted with some indications that it may have dropped as much as 40% from NHL 14.
EA Sports has not commented on further support for NHL 15. It could be now that near full attention will turn to NHL 16 as the future of the series could rest on whether that title shows recovery and growth in both sales and digital revenue. If it doesn't there is legitimate concern about whether the franchise will be sustainable long-term.