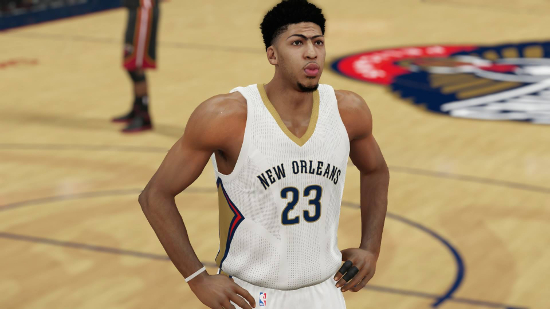 It was a relatively light week for NBA 2K15 roster updates at least compared to the near daily basis they were being delivered since the beginning of the season. The drop-off for this span was notable with adjustments to only 69 players after altering 229 through the first two weeks. Accessories and rotations were changed as well in the four days that did receive updates. Check out full details on overall and individual attribute changes in the spreadsheet here.
Anthony Davis continues to surge upwards and has now reached 92 overall due to a ton of positive movement to various attributes. Carmelo Anthony is back up to 90 and DeMarcus Cousins is only a point away from getting there now.
Other significant moves were made with John Wall who goes up a point to 87 as does Kyrie Irving to 87 and Jimmy Butler to 82. Chris Paul, Kobe Bryant, Lance Stephenson, and Serge Ibaka take the biggest hits for those sliding downward along with rookies Jabari Parker, Andrew Wiggins, Doug McDermott, and Shabazz Napier.