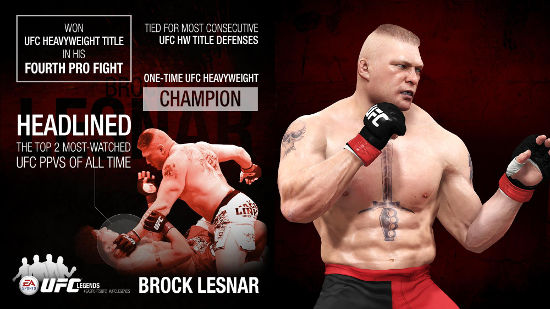 Four legends will be making their way into EA Sports UFC in an update that could arrive as early as next Tuesday though the official release date has yet to be announced. Brock Lesnar, Matt Hughes, Mark Coleman, and Quinton "Rampage" Jackson will be added to the game.
Outside of that details from EA have been slim. It doesn't appear there will be any sort of new mode rather just these four legends to expand the current roster. They're also expected to be free though again that remains unconfirmed as well.
It's an underwhelming announcement given the "Legends are Coming" promotion from the company. Not only is it limited to just four fighters but all of them have been in the recent UFC games from THQ. Lesnar actually was on the cover of UFC Undisputed 2010.
Still it's another positive development for a game that got off to a rough start with EA putting a lot into post-release support in order to solidify their positioning of UFC as a potential long-term franchise. Five patches have turned around the gameplay and delivered 14 other fighters to the roster. Given that the game was just available for under $14 it makes it silly to complain about any free content being offered now or in the future.