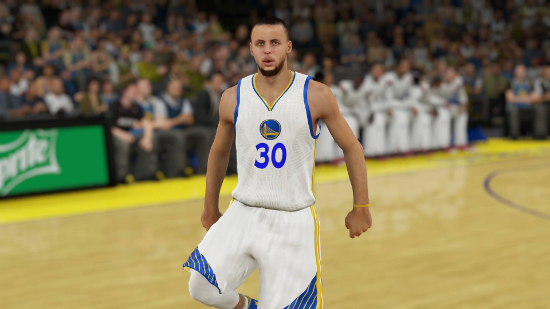 An art update arrived today for NBA 2K15 that delivered new uniforms to the game. The "Pride" jerseys for the Celtics and Magic and a new alternate for the Cavs are included, but it's the Christmas jerseys that will get most of the attention. Those have been added for the 10 teams that are set to play that day.
The main draw (or drawback in the opinion of many) to this year's Christmas jerseys is that they feature the player's first name instead of their last name. However 2K15's representation includes the last name and even the box framing the name is absent. The NBA logo is also too small. On the front of the jerseys the team logos are too small – they should be the same size or larger than the number below – and the adidas logo is missing.
It's unclear why 2K Sports would release the jerseys in this state and they have yet to comment on whether a fix for them will be made.