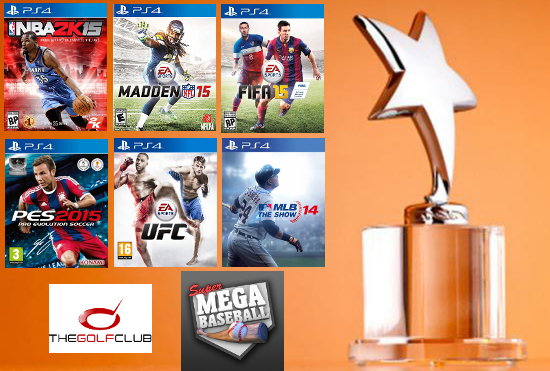 After a few weeks of collecting votes – the total of which exceeded 31K – it's time to announce the remaining winners of the 2014 Pastapadre Community Choice Awards. Make sure to check out the earlier results for the first six categories here. Continue on to see what has won Best New Feature, Most Disappointing Game, Best Mobile Game, Best New or Non-Yearly Sports Game, and Best Sports Game of 2014!
Most Disappointing Game: NHL 15 (63%)
No surprise here with NHL 15 by far considered the biggest disappointment of the year. Missing features and awful, arguably deceptive, communication from EA Sports took what was expected to be a promising release to one many decided to pass on. 24% felt the digital-only RBI Baseball 14 had earned the undesired distinction, and the remaining 13% chose EA Sports UFC.
Best New Feature: Player Lock/Quick Counts – MLB 14: The Show (34%)
Two features, related enough to be considered together as both were designed with the intention of shortening the time commitment for games in MLB: The Show, walked away with the honor despite tough competition. The "Greg Norman Course Designer" in The Golf Club was right on its heels (30%). 20% supported the "Ego Difficulty System" from Super Mega Baseball and 16% "MyPark" in NBA 2K15.
Best Mobile Game: WWE SuperCard (37%)
The very popular WWE card-battle game pulled off the victory in the mobile category snapping the streak of wins by FIFA. Tap Sports Baseball finished as the runner-up with 29%. iOOTP Baseball 14 (17%), FIFA 15 Ultimate Team (11%), Flappy Golf (4%), and Desert Golfing (2%) rounded things out.
Best New or Non-Yearly Sports Game: The Golf Club (41%)
All three nominees had strong showings but the sim-oriented digital-only game The Golf Club came out on top. Super Mega Baseball pulled in 32% of the vote despite releasing so late in the year while EA Sports UFC accounted for 27% after excellent post-release support boosted the perception of the product.
Best Sports Game of 2014: NBA 2K15 (31%)
In a year where no game even approached perfection NBA 2K15 did enough to win a third Community Sports Game award for the series in six years. The depth of the product and outstanding gameplay and presentation helped to cover up troublesome issues with online performance and server stability. Madden NFL 15 finished as the runner-up with 25%. That was followed by MLB 14: The Show (19%), FIFA 15 (18%), and Pro Evolution Soccer 2015 (7%).
The finally tally on 2014 award wins: NBA 2K15 (5), Madden NFL 15 (1), The Golf Club (1), MLB 14: The Show (1), EA Sports UFC (1), WWE SuperCard (1).