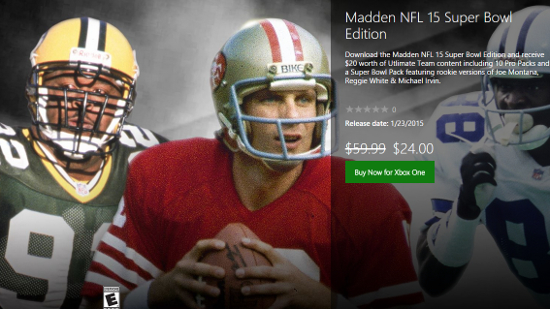 EA Sports today released a "Super Bowl Edition" of Madden NFL 15 as a digital download on Xbox One. The game is being offered for $24 to Xbox Gold subscribers and $60 to those without it. It'll be made available for PlayStation 4 and PlayStation 3 on Tuesday, January 27.
The "Super Bowl Edition" is the standard Madden 15 but comes with $20 worth of Ultimate Team content. That includes 10 Pro Packs and a Super Bowl Pack that feature rookie versions of Joe Montana, Reggie White, and Michael Irvin. The deal will be active until Monday, February 2.
Madden 15 can currently be purchased new for $40 through Amazon and even back over the Black Friday period it only fell to $30. Those also wouldn't include any Ultimate Team bonuses.
That makes the "Super Bowl Edition" at $24 a pretty solid deal, unlike the earlier rip-off "Holiday Edition", but comes at a point in the year where market interest in Madden is just about to die off completely. That makes it a smart move for EA as they may be able to generate some additional sales out of this and of course getting anyone new hooked into the Ultimate Team ecosystem is a win for them as well.